Japan, the World Bank and several partner countries on Wednesday launched a $40 million partnership project to diversify supply chains for clean energy products, a move seen by some analysts as aimed at addressing their over-reliance on China.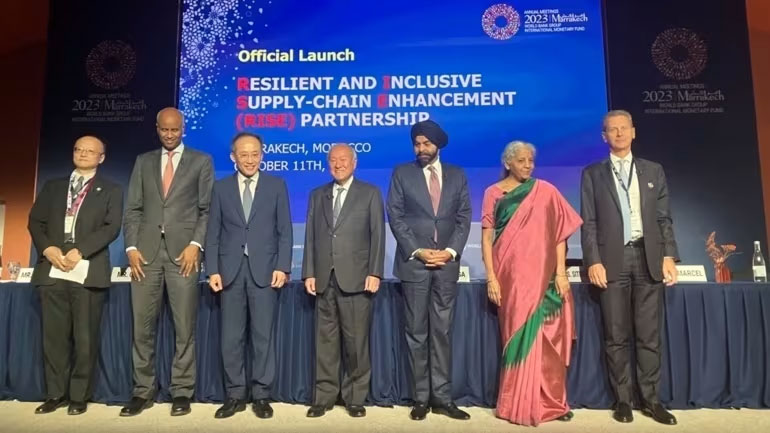 The initiative will offer financial and technical support to help emerging market and developing countries boost production of clean energy goods and "increase their participation in global mineral value chains," Japan's Ministry of Finance and the World Bank said in a statement.
Japan plans to contribute a total of $25 million to the venture, Finance Minister Shunichi Suzuki told an event on the project's launch held on the sidelines of the International Monetary Fund and World Bank meetings in Marrakech.
Along with contributions from Canada, Italy, South Korea and the United Kingdom, the total initial contribution will be more than $40 million, according to the statement.
"Developing countries from Latin America, Africa and all the Pacific region have immense potential to play key roles in global value chains for renewable energy," World Bank President Ajay Banga said in the event.
"For them to capture a larger share of the value-add along the supply chain, they need our support to build mineral procesing and manufacturing capacity."
South Korea's Deputy Prime Minister Choo Kyungho said the scheme will help reduce risks surrounding supply chains for minerals crucial for his country's manufacturers.
Japan, as this year's G7 chair, has initiated the scheme, named "Partnership for Resilient and Inclusive Suppy-chain Enhancement" (RISE), reflecting concern among some advanced nations over their heavy reliance on China for key mineral resources and goods related to energy security.
In a joint statement in May, finance leaders from the Group of Seven (G7) advanced economies said diversification of supply chains can "contribute to safeguarding energy security" and help maintain macro-economic stability.
Chile and India attended Wednesday's event as representatives of prospective recipient countries.
"I encourage other interested countries to join this important initiative," Suzuki said in the event.
Source: https://www.reuters.com/business/energy/japan-world-bank-launch-project-diversify-energy-supply-chain-2023-10-11/