On May 24th, Vietnam Maritime Corporation (VIMC) and Adani Port and Special Economic Zone Company (Adani Group's subsidiary) signed a memorandum of understanding (MoU) on the development cooperation strategy of sea transport, logistics. Adain Group is one of the largest economic groups in India.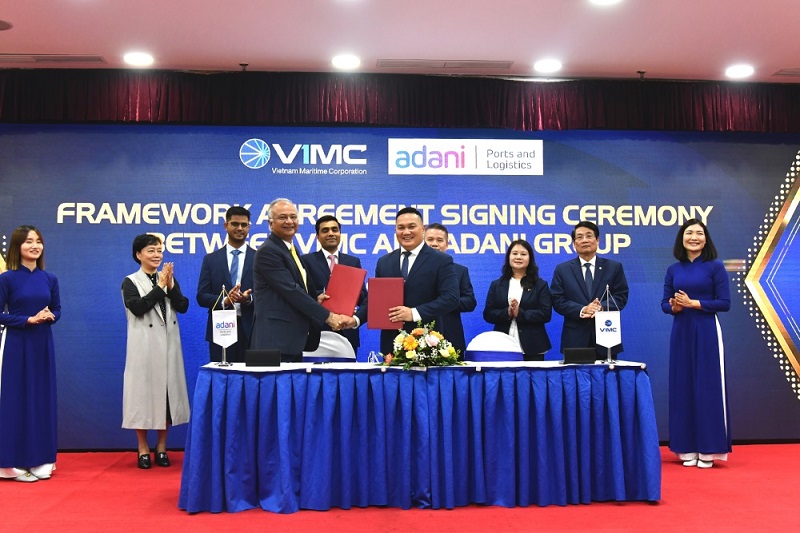 Accordingly, VIMC will support and cooperate with Adani for searching and investing logistics and port infrastructure projects in Vietnam. Additionally, these two corporations will create favorable conditions for subsidiary counterparts to cooperate and prioritize using each other's services, especially in the field of logistics and warehousing of Adani Logistics and VIMC Logistics.
According to Mr. Nguyen Canh Tinh - General Director of VIMC, VIMC identifies Adani as an important strategic partner in developing the fleet of ships and container ships in Inner Asia, including the Indian and global markets for which connecting economic regions in the point of Vietnam.
Both are leading maritime enterprises in each country and this combination will contribute to improving supply chains network and realizing trade relations of both Vietnam and India.
As for Mr. Karan Adani - General Director of Adani company of port and special economic Zone, said that he believes that the combination of VIMC and Adani will improve the supply chains of both countries based on the combination of experience of each enterprise.
Mr. Karan Adani said: "The signing of cooperation today will be an initial milestone between the two units, creating a premise for more specific steps in the fields of: shipping, logistics. In the near future, maritime services between the two countries have great potential in developing the marine economy.
Vietnam Prime Minister Mr. Pham Minh Chinh also worked with the company's representative in the afternoon of the same day, the representative also said that they are interested and spend a lot of time in researching and evaluating the capability to make long-term investment decisions in Vietnam. The total investment capital of Adani will be approximately around $10 billion in the fields of seaports, logistics, energy and digital technology.
Regarding the investment direction, Adani also said that they want to build a greening seaport ecosystem, wind and solar power plants in Vietnam, the estimated capital for this field is about $3 billion.
As for the port infrastructure and post-port logistics industrial park, Adani is also very interested in the development project of Lien Chieu deepwater port in Da Nang.
Info about Adani Group: As one of the largest economic groups in India, in the group of 5 fastest growing companies in the world in terms of seaport investment, and leading in India in terms of port development and operation, integrated logistics system, currently Adani accounts for 25% of the port operation capacity in India. In addition, Adani also has experience in building overseas seaports such as Haifa in Israel.
Source: https://baodautu.vn/vimc-va-adani-bat-tay-hop-tac-nghien-cuu-dau-tu-cac-du-an-cang-bien-va-logistics-d190484.html