Binh Duong and Dong Nai have just started a series of key infrastructure projects to realize the goal of becoming the logistics center of the Southern Key Economic Zone.
Invest in infrastructure to develop logistics
In the Southeast, Binh Duong and Dong Nai have many advantages to develop logistics services because they both have railway stations and inter-regional road systems, which are always among the top in the country in terms of attracting foreign investment.
According to Binh Duong's draft project on sustainable development of the logistics system to 2030, with a vision to 2050, the province will become a satellite logistics center of the Southeast region in the period of 2026 - 2030. To achieve this goal, Binh Duong will develop new modern and professional ICD logistics centers and inland ports, meeting international standards.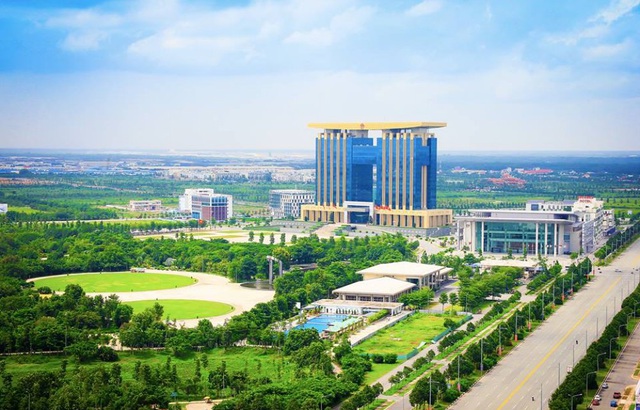 Binh Duong has set a target that by 2045, Binh Duong is determined to become the satellite logistics center of the Southeast region. The province will create favorable conditions for businesses to develop green transport modes and join the global supply chain.
Dong Nai is also a locality with many advantages to become the logistics center of the region, because it is only about 30 km away from the center of Ho Chi Minh City, 40 km from the Thi Vai - Cai Mep port cluster (Ba Ria - Vung Tau).
According to Dong Nai's draft master plan for the period 2021 - 2030, the province has set a goal by 2030 to make services to become the key industry and a driving force for economic development. In which, an aviation logistics center will be formed based on the advantages of Long Thanh airport being built and a cross-border e-commerce center will be formed.
Achieving the goals
In Binh Duong, Warburg Pincus Group (USA) and Becamex IDC have planned to invest in a cross-border e-commerce center project with a scale of 75 hectares. In addition, a number of logistics projects of foreign corporations have come into operation such as Lazada's hi-tech commodity sorting center at Song Than 1 Industrial Park, or bonded warehouses serving the wood and wood industries. largest scale furniture in Southeast Asia at Nam Tan Uyen Industrial Park.
For Dong Nai, logistics has also made strong changes and received the attention of many investors. In mid-February 2023, the province approved the detailed planning of Cainiao Dong Nai Smart Logistics Center in Trang Bom District. The project has a scale of 16,8 hectares, of which 9 hectares are to build warehouses and store goods to serve the needs of manufacturing enterprises. The project is invested by Cainiao Network (Alibaba Group).
Source: https://baodautu.vn/binh-duong-dong-nai-dau-tu-nhieu-du-an-logistics-d192650.html