The share of goods trade between Vietnam and the US increased by 2,7% in the first 10 months of 2022, 0,1% more than the UK, according to Census Bureau data.
From 2004-2021, the UK still maintains its position in the top 7 logistics trade of the US. However, according to Census Bureau data, this proportion in the first 10 months of this year has dropped to 2,6%. While Vietnam's increased to 2,7%, surpassing the UK, entering the top 7 commodity trading partners of US.
The group of countries leading the logistics trade with US in the past 20 years only includes European - American and East Asian countries such as Canada, Mexico, China, Japan, Germany, South Korea and UK. In addition to successfully surpassing the UK, Vietnam is also the first Southeast Asian representative to reach this position.
Before 2019, Vietnam had never appeared in the top 15 list of the Census Bureau. In 2021, the S-shaped strip of land successfully rises to the 10th position. If the indexes do not change too much by the end of this year, Vietnam will be the first Southeast Asian country to surpass the UK, becoming one of the seven leading economies in goods trading with the United States.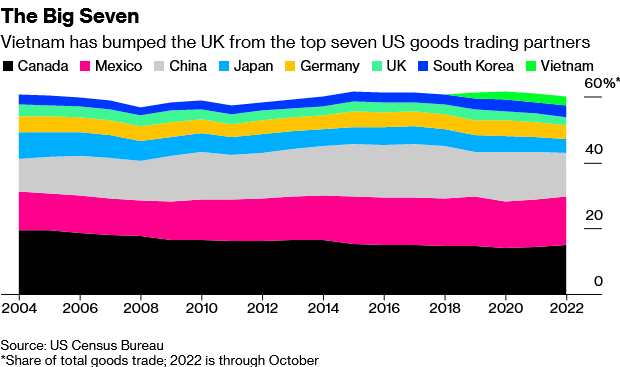 The above figures also partly reflect the shopping and commodity trends that were formed before the pandemic broke out. Covid only helped to speed up this process and caused it to explode earlier than expected. China's share of goods trade with the US in October reached 13,2%. While in 2017, the index peaked at 16,4%.
Due to many external conditions, including expanding the market and diversifying service providers, US companies have been looking for more delivery service providers in other countries. As a result, the share of US trade in goods with countries such as Mexico and Vietnam has increased significantly.
Vietnam's total exports from January to November rose 13,4% year-on-year, according to the General Statistics Office of Vietnam. Vietnam's official data also shows that the US was Vietnam's largest export market in the first 11 months of the year with $101,5 billion, up 18% year-on-year, followed by China with nearly $53 billion.
Mexico also recently announced a record export volume in September with 52 billion USD, mainly thanks to strong consumer demand from the US. Last month, Bloomberg released figures showing maritime shipments, vehicles and computer components are leading the export boom in Mexico.
Source: https://www.bloomberg.com/news/newsletters/2022-12-19/supply-chain-latest-vietnam-tops-uk-in-top-7-us-trade-partners