In the results of the PCI 2022 announced report, 5 provinces and cities with the best quality of infrastructure in Vietnam are ranked as: Quang Ninh, Ho Chi Minh City, Binh Duong, Hanoi and Dong Nai, respectively.
According to the PCI results from 2015 to 2021, Binh Duong province was always in the top position in terms of infrastructure quality. By 2022, there has been a change in positions in the top 5 respectively: Quang Ninh, Ho Chi Minh City, Binh Duong, Hanoi, and Dong Nai.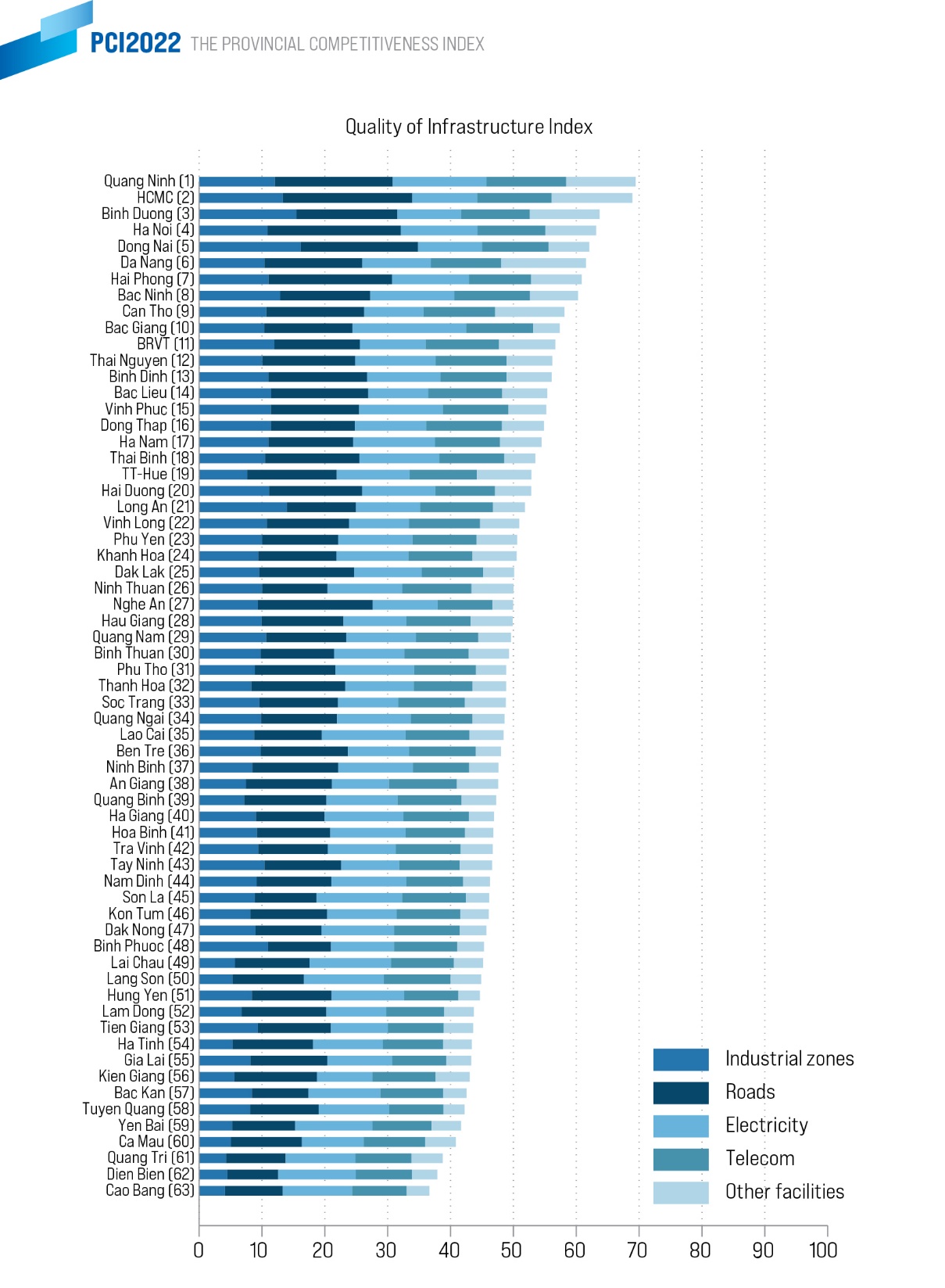 Quang Ninh currently has a relatively complete transport infrastructure system with an airport, highway, and a modern seaport system, according to the People's Committee of Quang Ninh province.
In particular, Quang Ninh province has a modern infrastructure system connecting roads and inland waterways for the flow of goods to and from the port. The location of Quang Ninh seaport easily connects to key economic regions and is a focal point for importing and exporting goods in the province.
Currently, Quang Ninh seaport belongs to group I port (Including: Hai Phong port, Quang Ninh port, Thai Binh port, Nam Dinh port, Ninh Binh port), serving the sea transport needs of Vietnam northern provinces, compared to Hai Phong port, the volume of goods through Quang Ninh port is equal to 75% of the capacity. In addition, this is also a leading locality in investment of the provincial budget or in advance capital to the central government to clear ground for projects, thereby creating a driving force to attract investment by Public – Private Partnership (PPP)
In the period 2015-2020, Quang Ninh province has renovated 228km of national highways; Renewing and upgrading 126,7km of provincial roads; Renovating, renewing, maintaining 1250km of district roads and 3750km of rural and mountainous roads.
In addition, this province has also fully invested in highways Ha Long - Van Don, Ha Long - Hai Phong, Hon Gai international passenger port, Van Don international airport and other projects connected industrial parks. , economic zones, other seaports.
Quang Ninh province also improved regional linkage activities by:
- Cooperation with Hai Duong province to make Trieu bridge connecting Dong Trieu - Kinh Mon
- Cooperation with Hai Phong city to build Rung bridge project, Lai Xuan bridge project, upgrade national highways, consider restarting Yen Vien - Pha Lai - Ha Long - Cai Lan railway project
Planning of Quang Ninh province in the period of 2021 - 2030, with a vision to 2050
Regional linkages: the province will promote links with Hanoi, Hai Duong, Hai Phong, Lang Son, Bac Giang and other provinces in the Northern region
Intra-regional linkages: highland, mountainous areas, dynamic regions, urban centers associated with economic development corridors (Economic corridor: Lao Cai - Hanoi - Hai Phong - Quang Ninh; Lang Son – Hanoi – Hai Phong – Quang Ninh ; Coastal economic corridor from Mong Cai to Ca Mau)
Road traffic project:
- Rung Bridge
- Lai Xuan Bridge
- Bridges and roads connecting Uong Bi - Thuy Nguyen
- Bridges and tunnels connecting Tien Phong with Lach Huyen
- The riverside road connects Ha Long - Hai Phong highway to Dong Trieu district.
- Expanding National Highway connecting the coastal road of Ha Long - Cam Pha
- Renovating and upgrading provincial road Ha Long to the border with Lang Son province
- Lang Son - Tien Yen Expressway, Highway 4B
- Connecting traffic to the islands: Dam Ha - Cai Chien - Vinh Thuc, islands of Van Don district
Regarding the planning of types of infrastructure:
- Urban railways
- High-speed railway, elevated tramway after 2030
- Attracting investment in seaports: Nam Tien Phong (Yen Hung wharf area), Con Ong - Hon Net, Hai Ha, Mui Chua
- Building an international standard marina in Cua Luc Bay
Regarding logistics center planning:
- Planning logistics centers associated with the seaport system
- Logistics center associated with Van Don airport
- Logistics center attached to the border gate: Mong Cai, Hoanh Mo - Dong Van, Bac Phong Sinh
- Logistics centers associated with industry, urban areas, agriculture and fisheries
Source: https://cafef.vn/tinh-vuot-binh-duong-tro-thanh-noi-co-chat-luong-co-so-ha-tang-tot-nhat-viet-nam-se-quy-hoach-ra-sao-trong-tuong-lai-188230519055637734.chn