In the past few years, Vietnam's logistics market has made many mergers and acquisitions with domestic companies or transversely between units in the industry.
Gemadept's deals
At the end of May 2023, Gemadept (GMD) sold all 84,66% of its equity in Nam Hai Dinh Vu Port Joint Stock Company to Vietnam Container Joint Stock Company (Viconship – VSC).
This deal helps Viconship become the largest port company in Hai Phong with a total capacity of up to 2,6 million TEUs (up 36% over the same period last year) and account for 36% market share. As for Gemadept, the deal helps this company increase its profit to 85 million USD, improving its financial situation as the industry's competitive rate increases.
"This is a special deal with win-win situation, matching with the long-term strategy of both sides," said a Gemadept leader.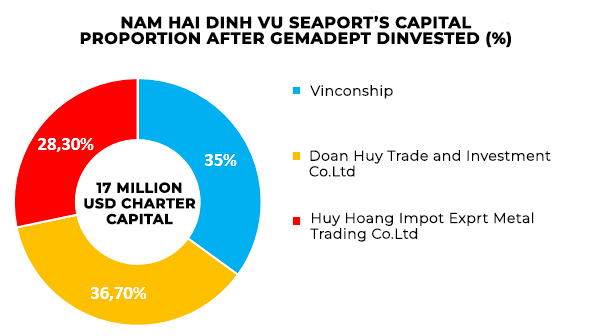 It is known that Gemadept has previously carried out a number of other member companies' transfer deals, such as: In 2014, Gemadept sold 85% of shares of Hai Phong Building Co., Ltd for CJ Group with the value of 45 million USD. Gemadept has an agreement with CJ on the right to sell the remaining 15% shares at the minimum price equal to the purchase price of 85% of the previous shares.
In the same October 2017, Gemadept carried out 2 other transactions including:
- Transferring the remaining 15% contributed capital to CJ O Shopping, the deal value is about 10 million USD, and the estimated profit is over 4,2 million USD.
- Transferring 50,9% of Gemadept Shipping Holding Co., Ltd.'s capital and 50,9% of Gemadept Logistics Holding's capital to CJ Logistics, the total value of both deals is 94 million USD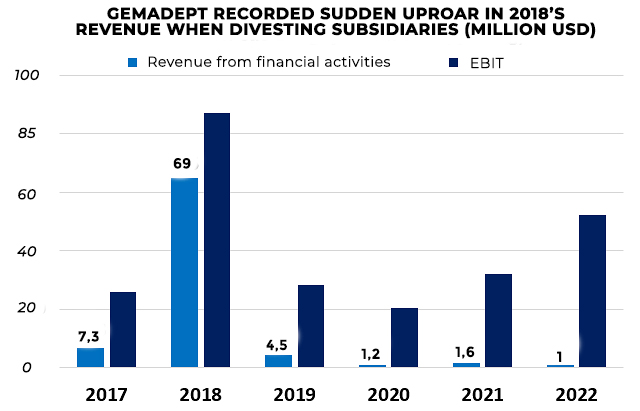 Millions of dollar deals
In May, PSA Cargo Solution Vietnam Investments Pte.Ltd bought 24,46 million shares of Southern Logistics JSC (Sotrans – STG), equivalent to 24,9% of charter capital at the price of nearly 55 million USD
It is known that Sotrans is the top 3 enterprise in the international freight forwarding industry of Vietnam the company owned over 230 000m2 of warehouse system in the center of Ho Chi Minh City, the surrounding areas and the industrial park adjacent to the Saigon River. In addition, Sotrans is also holding shares in Southern Port Joint Stock Company, Dong Nai Port, Vietranstimex, Southern Rivers, etc.

Timeline of Sotrans's stakeholders changing
In the period of 2018 - 2019, many M&A deals between domestic and foreign enterprises also took place, specifically:
- In 2018, Mirae Financial Group and Naver bought two goods supply centers in Vietnam at Yen Phong Industrial Park, Bac Ninh province for 47,01 million dollar through Miae Asset - Naver venture capital fund at the rate of 50 :50. Of which, 23 million dollar comes from the Fund and the rest is assumed by Shinhan Vietnam through refinancing and deposits.
- In 2019, Symphony International Holding Company invested 42,6 million dollar to buy shares of Indo Tran Shipping and Forwarding Joint Stock Company, previously, these shares have been held by Singapore Post since 2011.
With Vietnam Maritime Corporation (VIMC), this unit has a restructuring project for the period of 2021 - 2025 to reduce the capital ownership ratio of the parent company in 5 ports down to 51%, including:
- Can Tho Port (Currently holding 99% capital)
- Cam Ranh Port (81% of the capital)
- Quy Nhon Port (75% capital)
- Da Nang Port (75% capital)
- Cai Lan Port (56% of capital)
Particularly for Hai Phong port, VIMC plans to reduce its ownership rate from 92,5% to 65%. With these developments from VIMC, M&A will be more exciting in the coming time.
Besides, the deal to transfer 24% of Gemalink's capital owned by Gemadept is also awaited by many players in the industry. The reason they are waiting for news of this deal is because Gemalink is a deep-water port capable of receiving ships with a capacity of up to 200 000 DWT (Deadweight tonnage), this port is also considered as an outstanding competitive advantage to become a major transshipment port for Vietnam and in the region.
With the successful capital transfer of Gemalink port, this will help Gemadept generate profit and cash flow to reinvest in other projects.
In addition, Gemadept's leaders also said that the company also intends to divest its capital at Nam Hai port, Hai Phong. The reason is that this port is no longer suitable with the company's strategy. Gemadept is focusing on operating Nam Dinh Vu port cluster.
The attractiveness of Vietnam's logistics industry
Currently, Vietnam has a policy on mobilizing capital from the private sector to invest in infrastructure through the transfer of the ownership of operation for some logistics infrastructure, airports, seaports, etc.
According to research from Orbis Research, most logistics service providers in Vietnam are small and medium sized, providing low added value.
Currently, Vietnam's logistics market is home to more than 30 000 domestic enterprises and 25 global forwarding corporations in various business forms. 5000 of these enterprises are engaged in international activities with 69 medium to large-scale logistics centers.
In addition, there are about 30 transnational logistics service providers operating in Vietnam including: DHL, FedEx, Maersk Logistics, APL Logistics, CJ Logistics, KMTC logistics, etc.
Some assessments from foreign organizations about Vietnam's logistics market include:
- World Bank: ranked Vietnam 39th in logistics performance index 2018
- Agility: The annual ranking of 2023 shows that Vietnam is in the top 10/50 emerging logistics markets in the world, ranking 4th in Southeast Asia.
In addition, Vietnam's logistics market is forecasted to have a growth rate of 5,5% per year in the period 2022 - 2023, along with many foreign investors' assessments of Vietnam's many opportunities to develop of logistics services.
Source: https://vietnambiz.vn/nhung-thuong-vu-ma-dinh-dam-nganh-logistics-cang-bien-2023616167222.htm