South Korea's biggest carrier, Korean Air Lines, will offer to sell Asiana Airlines air cargo business and divest routes to four EU cities in a bid to gain EU antitrust approval for acquiring its rival, two people familiar with the matter said.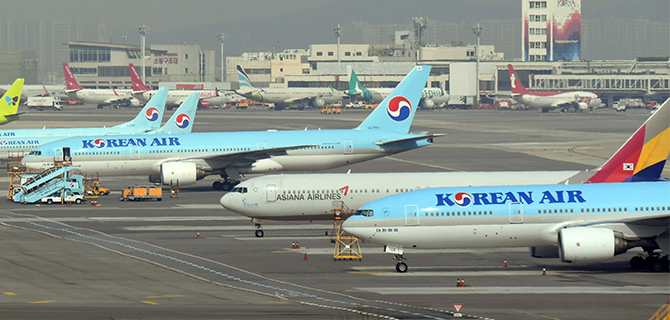 The airline sector has seen a wave of consolidation recently, with Lufthansa (LHAG.DE) acquiring a 41% stake in Italy's ITA Airways and British Airways and Iberia owner IAG (ICAG.L) buying the remaining 80% of Spanish carrier Air Europa it does not already own.
Competition watchdogs have demanded remedies tougher than just divesting airport slots to rivals, in some cases making sure the buyers can operate the acquired slots as efficiently as the seller.
Korean Air is now in talks with several rivals and will likely clinch a deal with a Korean air cargo competitor to buy the assets, one of the people said on Tuesday.
The carrier plans to submit the package together with the remedy taker to the European Commission by the end of October although the timing could still slip, the person said.
"Korean Air is engaged in full dialogue with the EC, and will submit formal remedies by the end of the month as requested by the authority to address the concerns," a Korean Air spokesperson said in a statement to Reuters.
"We are unable to render details at this point in time."
The EU antitrust enforcer has previously said the deal could reduce competition in passenger and air cargo transport between Europe and South Korea. It paused the clock on its investigation into the acquisition on June 23 while waiting for requested information
The UK competition agency in March said it would not open a full-scale investigation into the deal.
Source: https://www.reuters.com/markets/deals/korean-air-offer-sell-asianas-cargo-business-routes-satisfy-eu-regulators-2023-10-17/