On December 6th, IATA said that aviation industry is expected to gain profit again in 2023, this is the first time after nearly 3 consecutive years of downturn since Covid-19 pandemic.
According to IATA, aviation will make "small" net profit of $4,7 billion in 2023 and over 4 billion passengers to travel by air after cut losses in 2022, this figure is still far more way ahead to reach the industry's revenue in 2019 of $26,4 billion, before the time when countries issued restrictions.
Also, in IATA's June outlook has reduced aviation's loss in 2022 from $9,7 billion to $6,9 billion.
Mr. Walsh said that "The recovery is going well. There's still a long way to go to get back to where we were in 2019, but we are heading in the right direction"
"Relative small" challenges in the next year
The airline industry has been hemorrhaging billions of dollars in recent years as coronavirus health restrictions have weighed on air travel and consumer demand.
In few years back, aviation industry has been suffered losses of billions of dollar from pandemic restrictions, which reduced the demand for air travel.
Specifically, the industry had lost $137,7 billion in 2020 and $42 billion in 2021 since many challenges like personnel shortages, supply chain disruptions and other issued combined to hold substantially resumed regions back.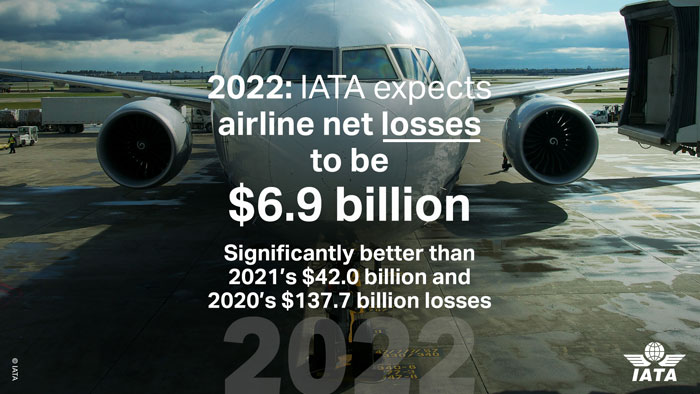 Although more pressures keeps pursuing aviation industry in particular and global economy in general, but Mr.Walsh said the industry now has better position to face challenges ahead.
"There will be challenges in 2023," Walsh said. "But, quite honestly, these challenges are relatively small compared to what we've come through."
"That's why we're optimistic that we can manage a way through these and get the industry back into very small levels of profitability, but profitability nonetheless," he added.
Easing situation for traveling by air
The forecasted revenue for the industry in 2023 will reach $779 billion, which is mainly drove by rebound travel demand.
The lead change region is North America with highest profit, followed by Europe and Middle East. Asia – Pacific region and Latin America are forecasted to record additional losses in 2023 due to Covid-19 restrictions in China.
"Passenger's demand is expected to reach 85.5% of 2019 levels over the course of 2023 with 4.2 billion travelers expected to fly," the report said.
On the other hand, cargo market was the main life support for airlines in the last two years, which will still hold significant share of revenues in 2023 even lower volumes than the previous years.
According to the report: "Revenues are expected to be $149.4 billion, which is $52 billion less than 2022 but still $48.6 billion stronger than 2019."
Other elements include: energy and labor price, skill and capacity shortages also reduce revenues of the businesses in the industry but at easing level.
2022 has been a chaotic year for air travel since flight delays and cancellations, layoffs occurred at many major airports. Mr. Walsh shared that most of disruptions will likely be over and smoother flights experience for passengers.
"I think most of that is behind us," said Walsh. "We should be confident that those issues have been resolved. Certainly there is absolutely no excuse for the airports not to deliver on good service as we go into 2023."
Source: https://www.cnbc.com/2022/12/06/airlines-will-return-to-profitability-in-2023-after-three-year-slump-iata.html
For more details about IATA's forecast: https://airlines.iata.org/analysis/airlines-reduce-losses-and-expect-profit-in-2023