With the advantage of geographical location located on the important traffic axes of the country, having many large seaports, along with abundant labor resources, in recent years, the Central region has attracted many FDI enterprises. The increase in investment has led to a great demand for goods import and export, which has put logistics enterprises on urgent requirements to expand their scale and improve the quality of service chains to meet market demand.
New trends, new opportunities
Currently, the trend of shifting supply chains from developed countries to developing countries is taking place strongly. In particular, Vietnam is considered as one of the typical countries to build an alternative supply chain. According to the Ministry of Planning and Investment of Vietnam (MP), in the 11 months of 2022, 1.810 projects of 107 countries and territories have invested in our country with a total capital of more than 25,1 billion USD, contributing to the formation of production areas, increasing the demand for import and export goods. According to statistics of the General Department of Customs of Vietnam, the FDI sector accounts for nearly 70% of the total import-export value of the country. This shows that the logistics needs of FDI companies are very large, opening up opportunities for logistics businesses to develop service chains, attracting "true" sources, promoting domestic and international trade.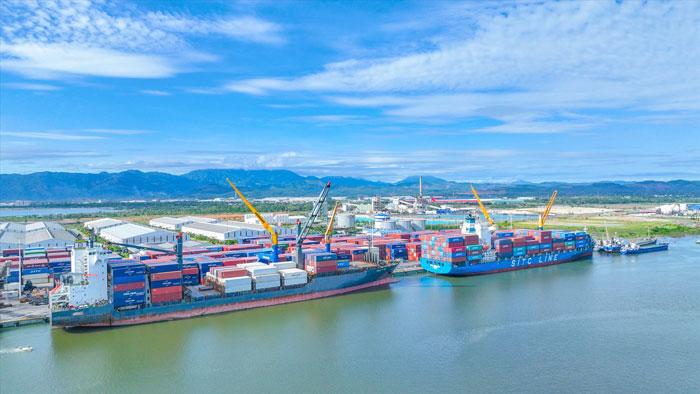 Located in the heart of the central key economic region, Chu Lai port also recorded positive impacts from the trend of shifting supply chains. Recently, the volume of goods imported and exported by FDI enterprises in Quang Nam and neighboring provinces through the port has increased. Currently, Chu Lai port is serving the export of goods for many FDI enterprises in Tam Thang, Bac Chu Lai, Dung Quat and VSIP industrial parks such as Happy Furniture, Xindadong Textile, Millennium, Shengyang Textile, Shin Chang Vina , Hyosung, DH Textile... with the main products being electronic components, medical equipment, garments, furniture, consumer goods, building materials, food, chemicals...
Mr. Deokyun Han, Director of DH Textile Company (Tam Thang Industrial Park-Quang Nam), one of the partners of Chu Lai Port said: "There is a large demand for exporting textiles and garments to countries around the world, also imports of raw materials for our production are increasing. Using a all-in-one logistics service at Chu Lai port helps us save time and optimize costs. The port has appropriate support policies, always supplies empty containers in a timely manner, prompts customs procedures, and meets the requirements of our business"
In the context of rising inflation, instead of building factories to store goods, renting factories and warehouses will help businesses save investment costs. In the previous years, many customers have signed cooperation agreements with Chu Lai port to rent warehouses and yards. The port has invested in expanding the warehouse system with a total area of 224.000m2, according to international standards with specialized subdivisions (bonded warehouse, warehouse, cold storage, container yard), meeting the needs of cargo storage at large numbers and diversified types of FDI enterprises.
Promoting investment, attracting FDI enterprises
FDI enterprises often have high requirements for the quality of logistics services. Especially the criteria of cost, supply time and digitization in forwarding and transportation management. To meet this requirement, Chu Lai port invested, upgraded infrastructure, expanded warehouses, equipped with modern facilities and equipment, continued digital transformation in business activities, increased strengthen connection with seaports in the region to improve the quality of service chains.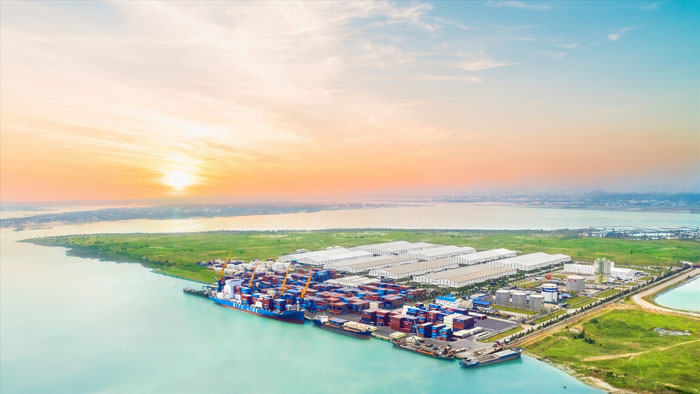 In order to diversify service routes, reducing costs, increasing the flexibility of import and export goods, Chu Lai has cooperated with many major shipping lines in the world such as: CMA CGM, ZIM, SITC... to open more maritime routes that connect directly Chu Lai to international ports, especially in Northeast Asia. In addition, the port is promoting the "inter-regional" strategy to link with seaports in Da Nang, Quang Ngai, Binh Dinh... to promote each other's advantages and improve service quality.
Towards the development of a smart seaport model, Chu Lai port enhances the application of software in container exploitation, vehicle journey monitoring, customs declaration, automatic cargo control applications, etc. to save money, loading and unloading time, and providing customers with the edges that conveniently track and manage goods, complete procedures with swift and precision.
At the present, Chu Lai is processing the procedures for receiving 50.000-tons ships, cooperating with Quang Nam province's authorities to open new Cua Lo route with the goal of completing seaport infrastructure and to become the largest container port in Central region of Vietnam.
Source: https://www.qdnd.vn/kinh-te/tin-tuc/cang-chu-lai-cung-ung-dich-vu-logistics-hang-dau-cho-doanh-nghiep-fdi-tai-mien-trung-714907