The process of cargo care always requires strict standards of the aviation industry to ensure safety during each flight. In addition, this process demands synchronous coordination with other logistics companies, in which process may cause unnecessary errors, causing a certain delay with the flow of goods of the enterprise.
So where can you find a reliable cargo care logistics company in Vietnam with optimal air cargo handling processes that helps to improve the speed of cargo movement? Let's find out in the following article
I. Best cargo care logistics company in Vietnam
With the optimization of the speed of rotation and the reliability of the aviation industry, the transportation of goods by this model is gradually becoming more popular even for medium-sized enterprises. Thus, with the increasing market demand, the capacity of goods to be handled is also soaring. In Vietnam, ALS is renowned as the pioneer of cargo care logistics company in Vietnam with the leadings in: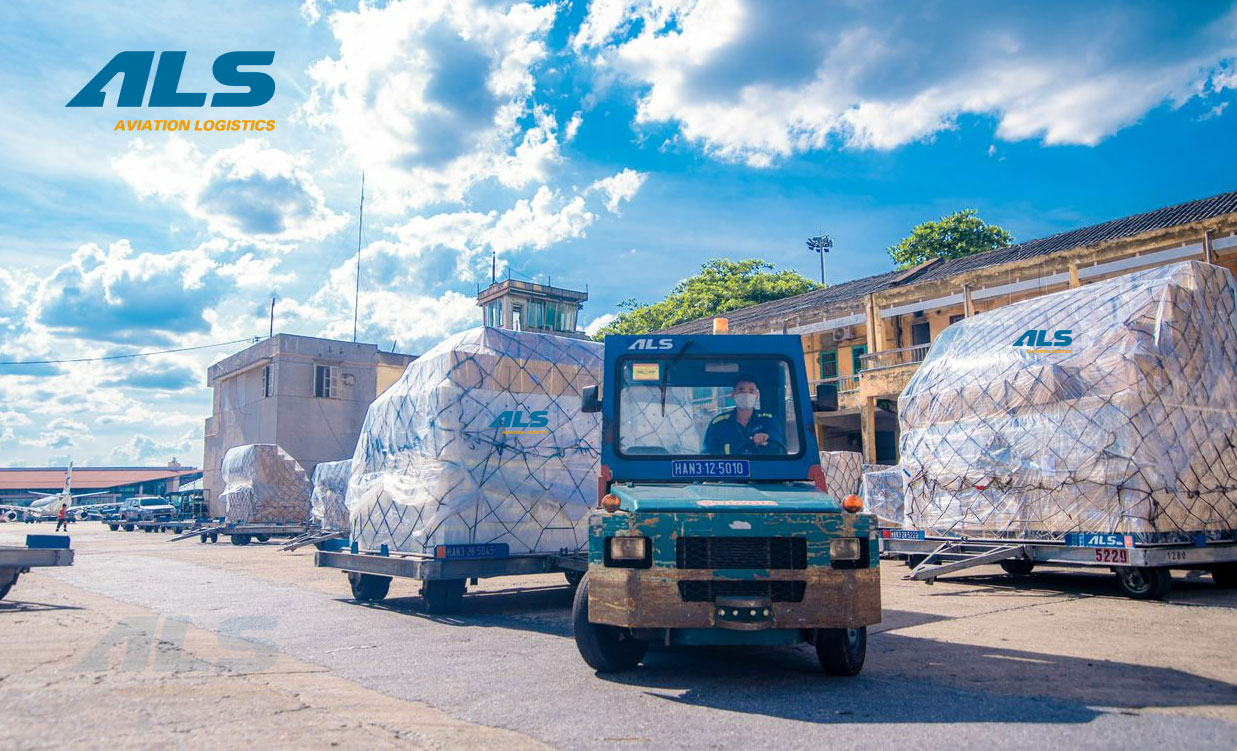 - Service infrastructure: ALS invested in infrastructure systems from industrial parks, international airports, interchanges between provinces in Northern Vietnam. Currently, the handling capacity at ALS cargo terminal in Noi Bai is over 500,000 tons/year, handling >50% of air cargo volume of many international airlines through Noi Bai airport.
- Edges in technology: Not only includes modern operating equipment and machines, but ALS also invests intensively in optimal management software systems, supporting processing across multiple platforms, real-time tracking.
- Applying international standards: ALS is a member of organizations: IATA, TAPA, WCA, etc. Also, ALS is the partner for: Emirates. , Japan Airlines, Korean Air, UPS, DHL, etc. Therefore, ALS's stages from operations to training personnel are standardized, meeting the requirements from around the world.
- Some of the certifications that ALS has been recognized for: CBTA IATA's valued member of ground handling partnership, ISO 9001:2015, EU-RA3, TAPA membership,...
II. Cargo care logistics procedure from ALS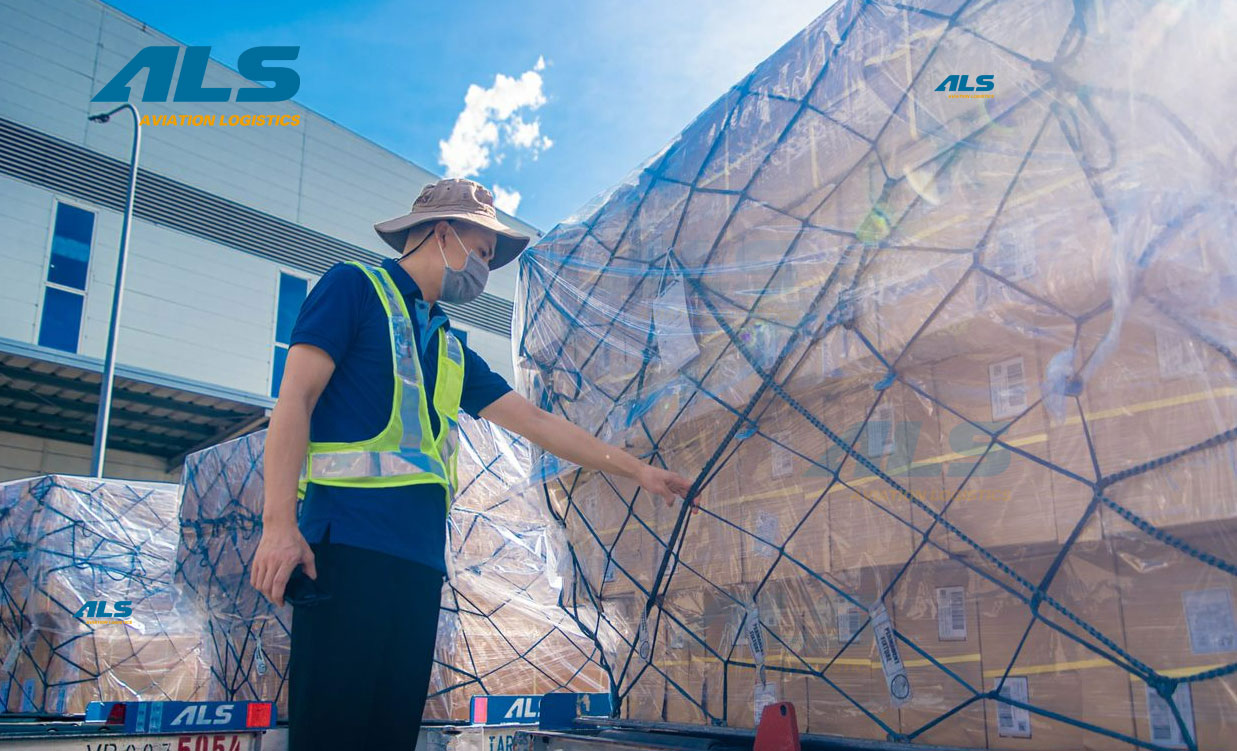 Cargo care logistics for international export
Serving export goods at the ALS terminal is carried out in accordance with the standard 7-step process:
Step 0: Goods will be transported, waiting for acceptance
Step 1: The goods are unloaded and brought to the receiving area to wait for security screening. Here, the goods will be checked for packaging and appropriate labels.
Step 2: After being screened, the goods will be stored in ALS warehouse to wait for loading and unloading (in the meantime, the export business will complete customs procedures, export goods, ... and follow other paperwork completion instructions from the cargo terminal).
Step 3: Loading the goods onto standard ULDs
Step 4: The ULD will be checked the weight of the goods
Step 5: ULDs are stored and waiting for the flight
Step 6: ULDs are taken to the loading waiting area
Step 7: Loading the goods onto the airplane
The process of serving international imported goods
Step 1: Remove ULDs from aircraft.
Step 2: The ULDs are then brought into the receiving area to carry out the following procedures: security screening, inspection packaging and labels.
Step 3: ULD will be put into ALS's warehouse of imported goods, then import business will need to complete import processes such as customs declaration, finalization of documents, import of goods as followed by the instruction from cargo terminal employees.
Step 4: After ALS staff check the clearance status and notify the next processing direction to customers
Step 5: Goods after being cleared will be sorted according to specific conditions
Step 6: Prepare goods for customers to deliver
Other cargo care logistics services from ALS
As the position of one of the pioneers in providing specialized air cargo care services in Vietnam, ALS provides customers with many other professional air logistics solutions and unique from ALS such as: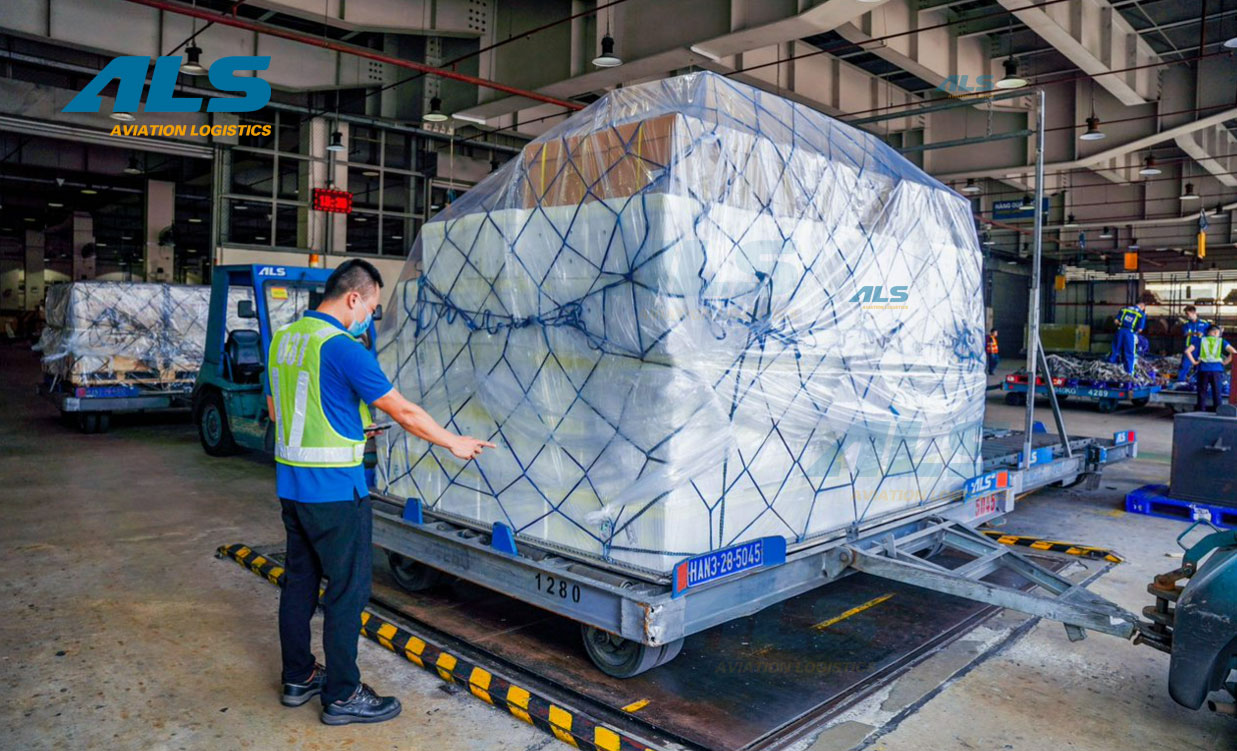 - Off-airport cargo terminal: A new type of air cargo handling service in Vietnam. The customer's goods will be processed before most of the import/export procedures for air cargo at the enterprise's locality, which will help to shorten the delay time between the forwarding stages, the customer's goods then will be transported to the airport and complete the procedures for accepting goods. Thus, customers can avoid congestion at airports.
- Warehousing services: ALS provides you with many different professional logistics services with a total storage area of ​​up to 63 000 sqm, meeting a variety of needs from: cold storage, cool storage, standard storage, document warehouse, bonded warehouse, etc.
- Transportation services: The advantage of ALS's transportation services is connective routes between key industrial parks and Export processing zones of North Vietnam, airports and seaports. Cargo flows are being regulated by large truck fleet of over 300 vehicles, support cold or standard transport from 1.25 tons to 15 tons
- Other cargo care logistics services: customs clearance, logistics infrastructure, IATA-certified training,….