Air freight rates were slightly higher again last week, according to the latest data from TAC Index.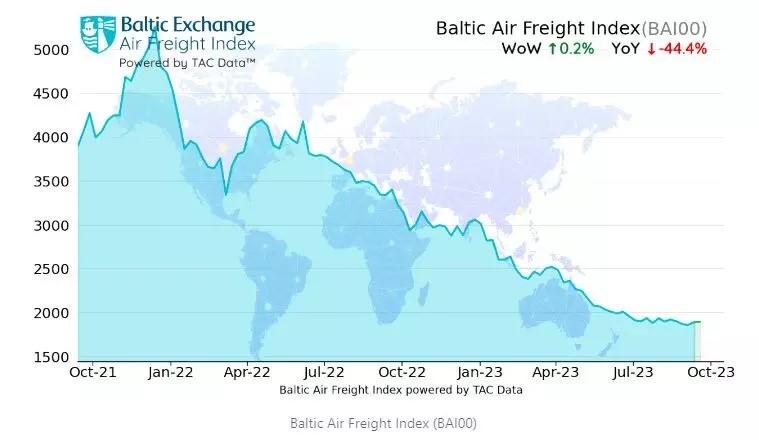 The overall Baltic Air Freight Index (BAI00) edged up marginally (0,2 percent) in the week to September 18, leaving the year-on-year change at -44,4 percent.
Rates were steady again out of China with the outbound Hong Kong index (BAI30) slightly below the previous week (-0,3 percent), leaving its YoY change at -38,3 percent - still well ahead of other major centres over the year given continuing strong e-commerce business and in spite of higher jet fuel prices and rising capacity.
Outbound Shanghai (BAI80) was up WoW by +1,3 percent, trimming YoY loss to -44 percent. "Out of Europe, the market was softer again despite feared disruption from the strike at Cargolux, which has now been settled.
Outbound Frankfurt (BAI20) was lower again -2,3 percent WoW, taking it to -47,9 percent YoY. London (BAI40) was worse - off another -4,7 percent WoW, taking its YoY decline to -55,9 percent.
Out of the U.S., outbound Chicago (BAI50) bounced back +8.8 percent from the previous week, leaving it at -49,9 percent YoY. "Among other major centres, rates out of India were up again to both Europe and the U.S. but down from Vietnam in both directions
Source: https://www.stattimes.com/air-cargo/air-freight-rates-slightly-higher-tac-index-1349782