52 business from US recently visited Vietnam to find cooperation opportunities in various industries, among them, there are some familiar names: Boeing, SpaceX, Apple, Netflix,...
At a press conference on the afternoon of March 21, the US-ASEAN Business Council (USABC) said that, on the occasion of the 10th anniversary of the comprehensive partnership between the US and Vietnam, the US business delegation this time is the largest ever to visit Vietnam.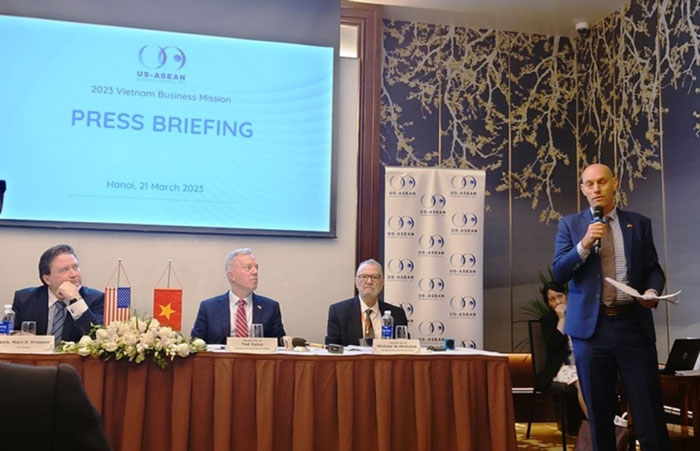 Among them are big companies such as: Boeing, Lockheed Martin (Military Industrial Corporation), SpaceX, Apple, Ford, Netflix,,….
Mr. Ted Osius - President and CEO of USABC commented that this visit of large enterprises shows their confidence in Vietnam.
"American businesses pay a lot of attention to ASEAN, especially Vietnam in the context of global economic difficulties. This is a central area of growth and eventful" said Mr. Osius.
The USABC also said that US businesses are looking for opportunities to diversify their supply chains after Covid-19.
According to Mr. Marc E.Knapper – US ambassador in Vietnam: "The US government wants to cooperate further with Vietnam. This visit shows the US commitment to the potential Vietnamese market with business opportunities".
According to USABC, we are currently witnessing the trend of expanding supply chains and manufacturing centers in Vietnam to different industries such as: semiconductor, FMCG, digital economy, creative economy, furniture, toys, banking and health care.
In addition, fields such as aerospace, defense and security are also of interest to the two sides again.
The US business delegation will have a meeting with Prime Minister Pham Minh Chinh, National Assembly Chairman Vuong Dinh Hue and leaders of many ministries to discuss issues related to policies, sale opportunities, supply and investment. Last year, trade between the two countries reached more than 120 billion USD. This year is expected to be the third consecutive year that bilateral trade has reached over 100 billion USD. The trade growth of the two countries since the normalization of diplomatic relations has increased 360 times.
According to Mr. Michael W Michalak - Vice President of USABC said that the meeting not only enhances goods trade but also promotes creative cooperation. "This will be the strongest growth sector, we are looking for ways for American businesses to focus on utilizing."
According to Meta's representative - Mr. Rafael Frankel, he shared that he was very impressed with Vietnam's digital economy and wished that Vietnam would continue to maintain an open economy to develop the digital economy in the next 20-30 years.
Another enterprise in the top Fortune 500 of the US is the energy company AES, which said: "Energy is an area of strategic cooperation between the two countries". This business will still look for opportunities to develop renewable energy in Vietnam. In addition, the company will also introduce energy storage technology to help reduce congestion, stabilize the grid, and help Vietnam integrate renewable energy.
Source: https://vnexpress.net/52-doanh-nghiep-my-den-viet-nam-tim-co-hoi-dau-tu-4583975.html