On June 22nd, South Korean President, Mr. Yoon Suk Yeol began an official visit to Vietnam, along with the leaders of 205 enterprises.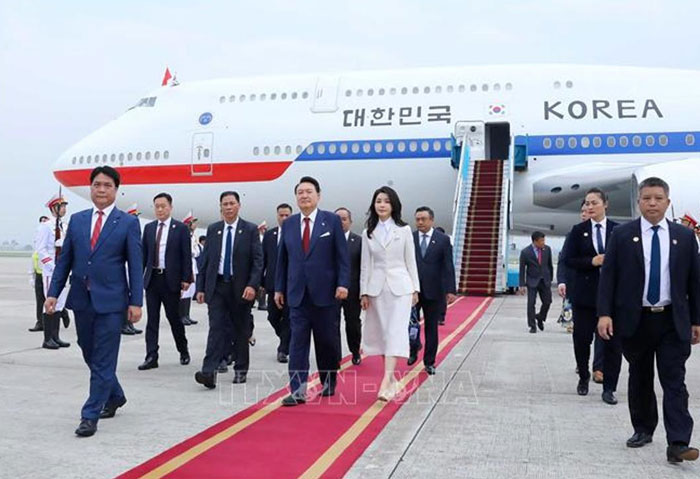 Specifically, out of 205 Korean businesses coming to Vietnam, there are 24 leaders of large enterprise includes: Chairman of Samsung Electronics Lee Jae-yong; Chairman of SK Huyng-hee Lee; Chairman of Hyundai Motor Company Chung Eui-sun; Chairman of LG Co.Ltd Kwang-mo Koo; Chairman of Lotte Holdings Co.Ltd Dongbin Shin; Vice Chairman of Hanwha Group Kim Dong-gwan; CEO of HD Hyundai Jeong Ki-sun; Chairman of Co., Ltd. LS Koo Ja-eun; Chairman of Doosan Group Park Jeong-won.
In addition, 28 representatives of medium enterprises includes: Chairman of Hyundai Group Hyun Jeong-eun; Chairman of TKG Taekwang Co.Ltd Joo-Hwan Park; Chairman of Korea Aerospace Industries Co.Ltd Kang Gu-young; Vice Chairman KBI Group President Park Han-sang...
Small and medium enterprises also have 138 representatives and together with economic organizations
Previously, South Korean Ambassador to Vietnam, Mrs. Oh Young Ju, emphasized that economics is the most important field of cooperation between Vietnam and Korea.
It is known that in the recent visits of the South Korean leader to foreign countries, this visit to Vietnam is the largest presence of Korean businesses. This shows that the economic, investment and trade cooperation between Vietnam and Korea has developed rapidly and spectacularly.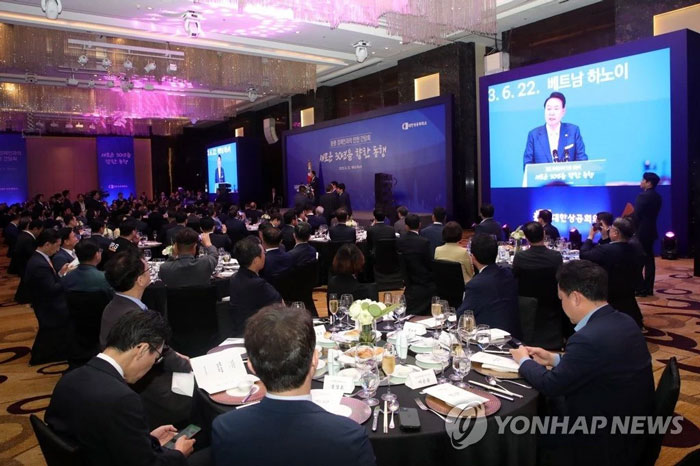 Given the unfavorable factors of the global economic environment, this visit of the President of the Republic of Korea and businesses is an opportunity for leaders and businesses of the two countries to exchange economic cooperation in new forms and fields.
The investment and cooperation relationship between Vietnam and Korea focuses mainly on the field of manufacturing. Governments and businesses of the two countries have realized that finding new projects and areas of cooperation such as: climate change, digital transformation, smart city development, environment and energy transformation.
Source: https://laodong.vn/doanh-nghiep-doanh-nhan/205-doanh-nghiep-han-quoc-den-viet-nam-gom-nhung-ong-lon-nao-1207862.ldo