Recently, Chairman of People's committee of Hai Duong province has met with management board of Hanwaha energy corporation Vietnam to discuss about energy and logistics project.
According to Mr.Chairman of Hai Duong's people committee, one of the main strategies of Hai Duong is becoming energy and logistics center of Northern Vietnam, therefore Hai Duong welcomes businesses to research investment in the province.
Hai Duong situated in convenient location, near many economic centers of Vietnam, the province will create beneficial conditions for businesses that are searching and developing market opportunities. Furthermore, Hai Duong is completing province-region planning, embedded with many potential locations for energy production and logistics., sub-region planning can be adjust for the project's scale.
In the future, the province will deploy many traffic projects, create synchronous transport connection within the province and inter-province to help businesses more convenient in transporting goods. Currently, Hai Duong is also focusing on building connective industrial complexes for investors in finding partners to support in production and business activities.
Therefore, Korean businesses want to research about energy and logistics projects in Hai Duong province.
To attract more investment projects to the province, Hai Duong Provincial People's Committee is committed to create beneficial conditions for businesses to approach, conduct field surveys, research and make investment decisions. Regarding to site clearance, the province will take the initiative plans to ensure clean premises for businesses if the project is implemented.
Over the years, attracting FDI has always been one of the bright spots of Hai Duong province. According to Hai Duong Department of Planning and Investment, in recent years, capital from the FDI sector into the province has increased significantly.
If in 1987-1990 period, Hai Duong had only 2 FDI projects, with total capital of 6.9 million USD, increasing to 16 projects in 1991 – 1996 period, with the amount of investment capita reached 448 million USD. Since the 2016-2020 period, Hai Duong has received 212 new FDI projects, nearly 200 turns of increasing capital to expand production.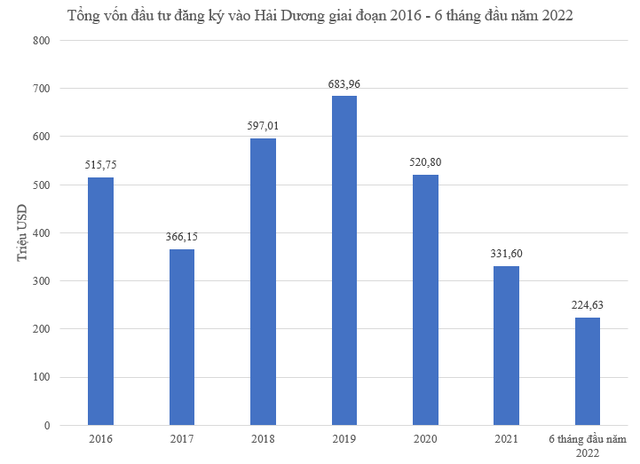 In the period 2016 - 2021, Hai Duong attracts FDI inflows of up to 3.02 billion USD. In the first 6 months of 2022, Hai Duong has attracted 6 new projects and the total registered investment capital reached 224.63 million USD.
The scale of FDI investment in Hai Duong is relatively even. FDI projects focus mainly on the industrial sector. The main investing industries are high-tech products manufacturing, electrical products and components, garments, agricultural products to export, mechanical engineering for the production of automobile assembly.
In recent years, Hai Duong has boosted consulting and promotion activities, calling for investment in projects with high, new, clean technology, supporting industries, energy saving in the province.
Nguồn: https://cafef.vn/dieu-gi-khien-tinh-nay-duoc-doanh-nghiep-han-quoc-mong-muon-dau-tu-vao-nang-luong-va-logistics-20220703143823671.chn