Are you looking for warehouse services in My Dinh, Ha Noi?
Are you looking for suggested prices for warehouse in My Dinh that suitable with your distribution plan?
Are you looking for reliable partner for professional services?
ALS warehouse in My Dinh can be suitable choice for your considerations
1. ALS warehouse for lease in My Dinh network
ALS provides standardized warehouse and yard at ICD My Dinh, Ha Noi, which specialized for large-scale storing, convenient facilities and modern technology in managing warehouse operations. All of those elements combined to ensure best storage quality, safeness of goods, fast and effortless extracting process.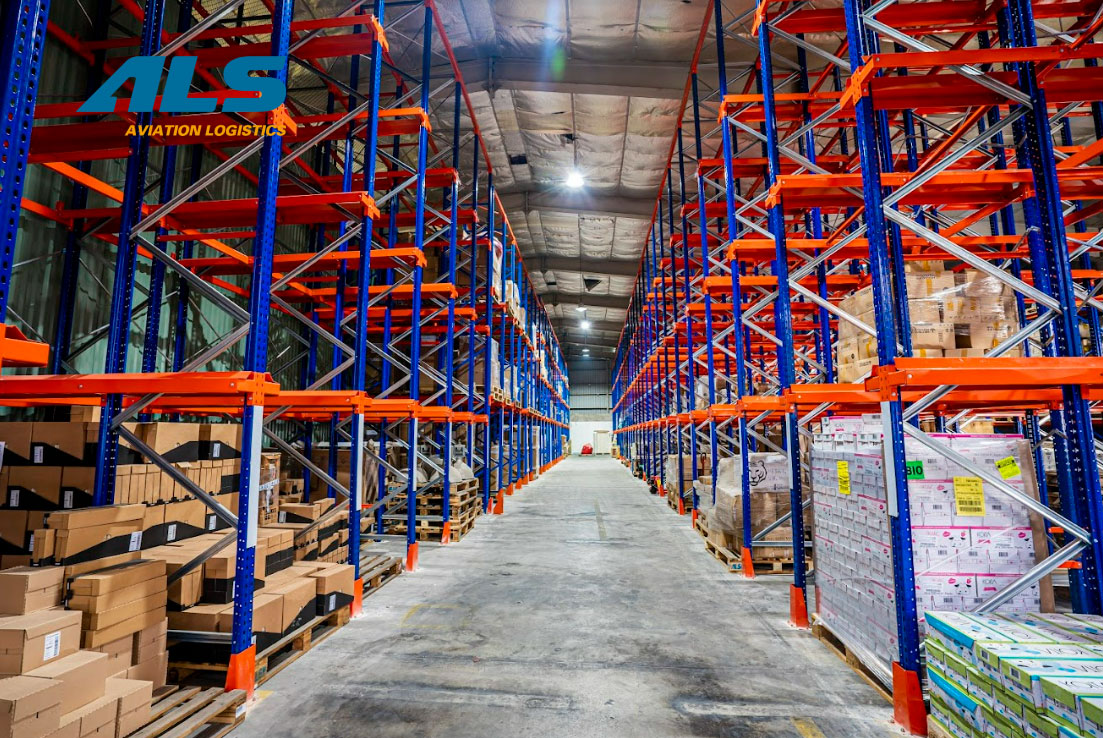 Currently, ALS provides 5 types of warehouse, including:
Standard warehouse: suitable for storing foods, drinks, beverage and commodities that do not require specialized storing techniques:
Centralized public warehouse: All goods are managed by ALS
Private warehouse: All goods are managed by customers
Weather-control warehouse: suitable for food, milk, drinks, sweets, healthcare and medicinal products and vaccine that require to storage in low temperature. Currently ALS provides weather-control warehouse in 2 specific temperature ranges:
Cool warehouse: from 15 – 25 celsius degree
Cold warehouse: 2 – 8 celsius degree
Document warehouse: for storing and securing document, records and other important papers, this type of warehouse also support extraction in shortest time.
Bonded warehouse: for storing goods that completed customs declaration procedures and awaits to import/export in/out of Vietnam.
Off-airport cargo terminal: A separated warehouse from airport with major elements of an cargo terminal: security screening, weighting, customs procedures and loading ULD.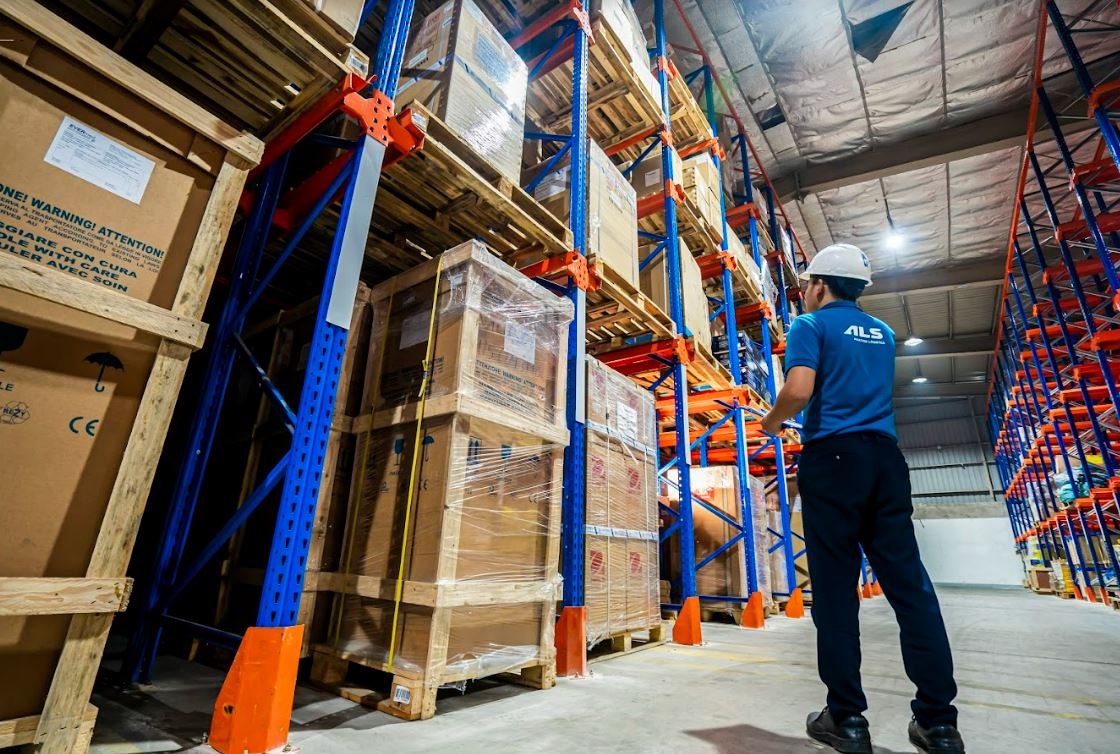 With this kind of model, goods from importing flow are able to be accepted, screening, weighting, completing customs procedures and loading to ULD. Afterwards, the goods will be transported in specialized trucks with customs seal and then fulfilling some of accepting cargo process at the airport. From now on, the goods are transfer for cargo terminal units to load to airplanes.
The same goes on with goods from exporting flow but it has some differences in the unloading process when customs must take on inspection, cargo terminal unit to unload goods from ULD, fulfilling customs procedures and hand over to customer.
Combing all import/exporting flows, Off-airport cargo terminal reduces significant amount of time in completing flight processes at the airport whereby speeding up the goods circulation in international trades, also, this model can reduce congestions at the airports.
Asides from common warehousing services, ALS supports additional services such as:
Lifting, handling cargo
Detailed goods management
Labeling
Other services: reinforce packages, selling pallet, on-demand service as follows by customer's requirements
2. Warehouse listing price in My Dinh, Hanoi
The following list price for warehouse service in My Dinh is only for advisory and hasn't applied with discount, other related fees. The latest update is in 2022.
For standard, cool and cold warehouse
Types of warehouse

Measurement units

Price (USD/month)

Notes

Standard warehouse

M3 (Cubic meter)

6,57

- Measurement formula: Length x Width x Height = Area x Height

- Goods will be sorted into racks/pallet with standard cell size

Cool warehouse

M3 (Cubic meter)

13,56

- Measurement formula: Length x Width x Height = Area x Height

- Cool warehouse temperature range: 12 – 22 Cesius degree

- Average humidity: +/-50%

Cold warehouse

M3(Cubic meter)/ton

0,74- 0,82 dollar/day/m3/ton

- Measurement formula: Length x Width x Height = Area x Heigh

- Minimum storage duration: from 15 days and longer
For document warehouse
Service lists

Measurement unit

Price (US dollar)

Notes

Document storage fee

Box/month

0,62

- The price applies for standard size document box: 42 x 32 x 27 centimeters

- Other box sizes will be converted into ALS box for calculation

Document box

Box

(Contact us for more details)

- The price applies for standard size document box: 42 x 32 x 27 centimeters

- Other box sizes will be converted into ALS box for calculation

Extracting document

Times

Free

Digital report monthly

Report

Free
*Note: All of the price list above only applied for published article. However, the price may varies in accordance to market. Feel free to contact ALS's exports to update the most recent price for leasing warehouse in My Dinh
**Note: All of measurement units are in Metric system
3. Contact with us for professional warehouse service in My Dinh, Hanoi
If you're interested in ALS warehouse services, please you can choose to visit directly at No.17 Pham Hung road, Hanoi to get better look at our warehouse and be advised with our export about operation processes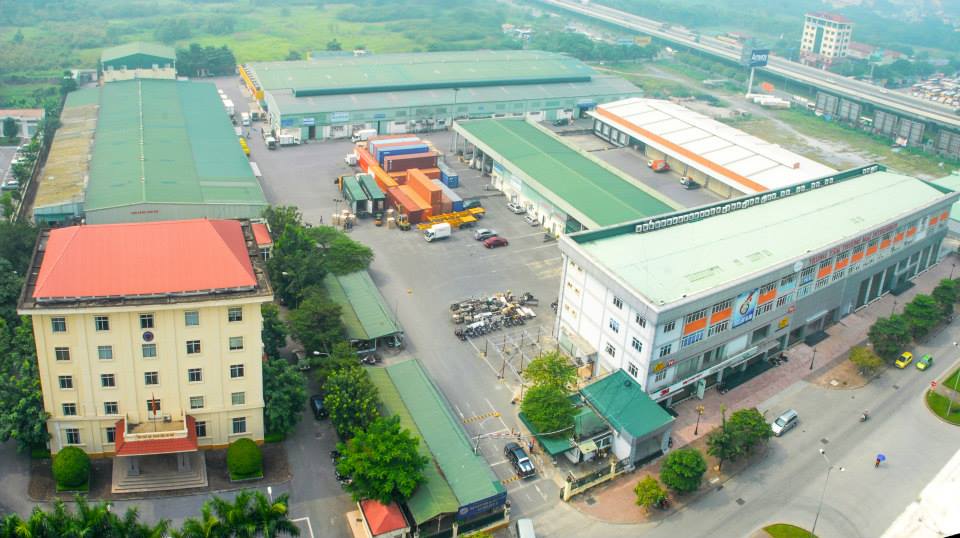 Besides, you can send your request about your expected warehousing services for us so we can discuss further about your specific requirements at:
Website: https://als.com.vn
Call center: (+84) 1900 3133, press number 2 for meeting with English representatives
Social media: Aviation Logistics Corporation
We will response as soon as we receive your contact