On the average, Vietnamese consumers make 104 orders per year, who ranked first in Southeast Asia in terms of the frequency of online purchases.
The published data in the Research report on cross-border e-commerce business, conducted by Ninja Van Group and DPDgroup. The report was deployed in 6 Southeast Asian countries (ASEAN) including: Singapore, Philippines, Malaysia, Indonesia, Thailand and Vietnam, with 5,000 participants.
With the average of 104 orders per year, Vietnamese people have much higher frequency of online shopping than the following countries: Thailand (75 orders/year), Singapore and the Philippines (58 orders/year). Meanwhile, the regional average is 66, a large proportion of Vietnamese orders are FMCG products, clothing and footwear.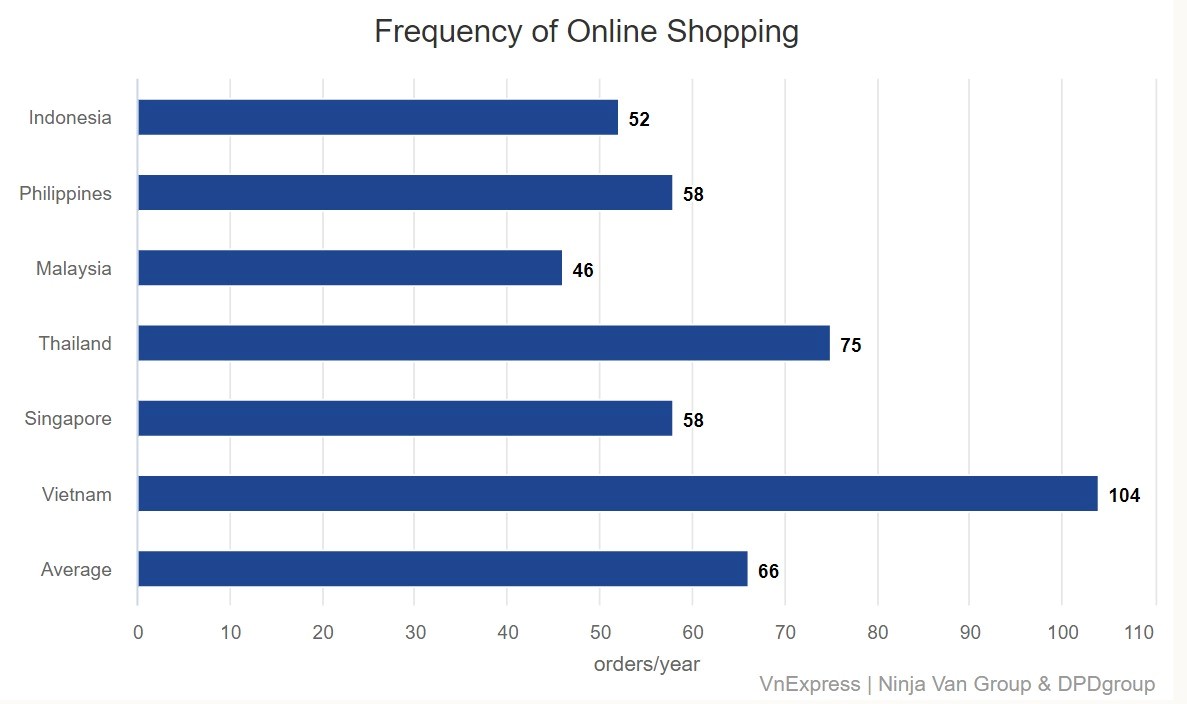 Not only leading in purchase orders, 59% of Vietnamese consumers said that they have ordered or shopped many times on international websites. This is the second highest rate in the region, after Singapore. Also from the report, Vietnam accounts for 15% of the total online shopping market in Southeast Asia, second only to Thailand with 16% and equal to the Philippines.
"We believe that Vietnamese market is one of the potential countries due to its sustainable and sharp growth in recent years," said Phan Xuan Dung, Sales Director of Ninja Van Vietnam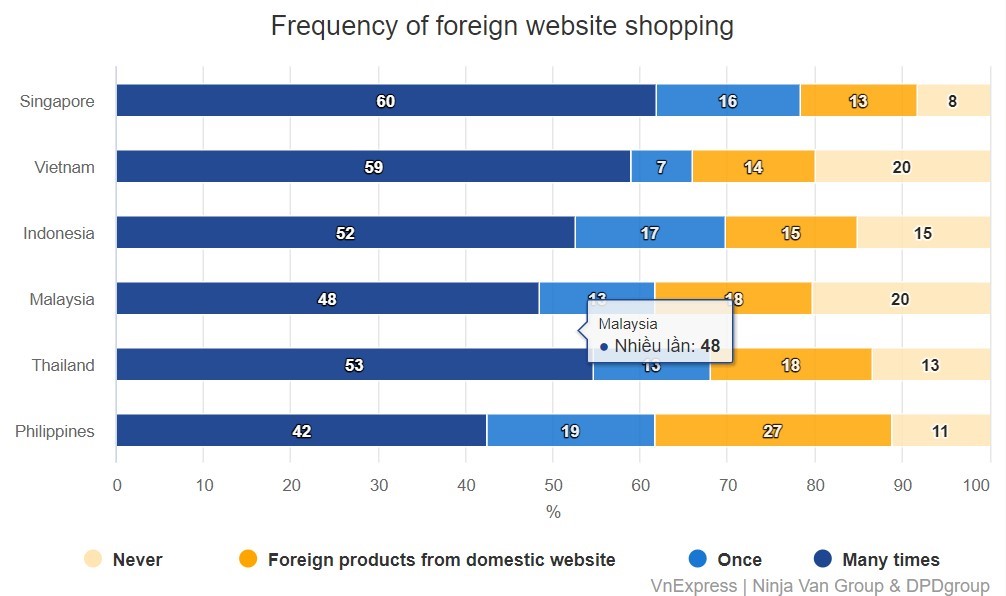 In the recent days, many other forecasts also gave similar results about the development of online business in Vietnam. According to Statista, Vietnam is expected to own the second largest e-commerce market in Southeast Asia, only after Indonesia before 2025. Vietnam currently has an average purchase level (ABS) of 26 USD, higher than two most populous countries: Thailand (25 USD) and Indonesia (18 USD).
At the same time, Google and Bain & Company forecast that the scale of Vietnam's digital economy will exceed US$52 billion and hold the third position in the ASEAN region by 2025.
In the report by Ninja Van Group and DPDgroup, saving money is the main reason why users shop online, with 76% of Vietnamese respondents agree with this opinion. This rate ranks second in Southeast Asia, after Indonesia (77%). However, free shipping is not an important motivation for Vietnamese to shop online, only 26% agree - the lowest rate in the region.
The development of the e-commerce market has become potential ground for logistics businesses to expand their operations. According to J&T Express, the online shopping habits of Vietnamese people developed strongly during the epidemic and remained quite sustainable after that. Demand for goods on e-commerce platforms "explodes" not only in big cities but also in rural areas...
Source: https://vnexpress.net/tan-suat-mua-sam-online-cua-nguoi-viet-dan-dau-dong-nam-a-4486647.html