The global economy is facing existential risks of disruption in the supply of strategic materials due to impacts from conflicts in many parts of the world, trade tensions, protectionism and difficulties in transport sector.
Vietnam's Ministry of Industry and Trade has actively discussed with many partner ministries, including the Japanese Ministry of Economy, Trade and Industry to establish a cooperation mechanism to maintain connection and secure the supply chain.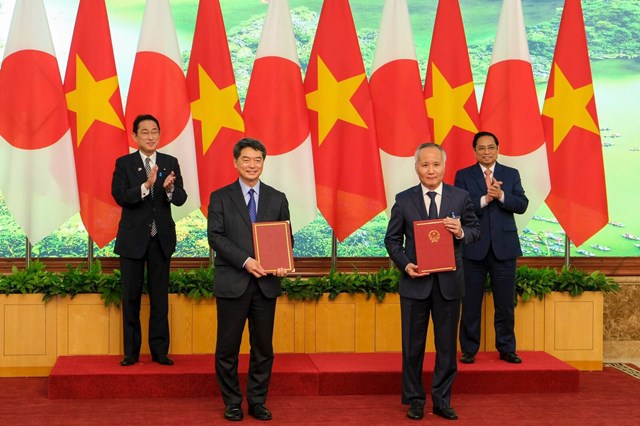 On May 1, 2022, upon the occasion of the official visit of Japanese Prime Minister Kishida Fumio to Vietnam, Deputy Minister of Industry and Trade Tran Quoc Khanh and Mr. Hirose Naoshi, Deputy Minister of Economy, Trade and Industry of Japan have officially exchanged the above signed Memorandum of Understanding (MOU) in the presence of Prime Minister Pham Minh Chinh and Prime Minister Kishida Fumio.
The signing of this Memorandum of Understanding gave practical contributions to the results of the visit to Vietnam by the Japanese Prime Minister, as well as creating a framework for cooperation to reduce the risk of supply chain disruption, particularly strategic raw materials for the economy.
According to the agreed content, both sides will regularly share information related to production activities and supply chains between Vietnam-Japan enterprises, which helping to identify cases of supply chain interruption to discuss the necessary measures to resume production and supply chain activities promptly and thoroughly.
To achieve this goal, Vietnam and Japan agreed to hold regular and ad-hoc meetings, especially maintaining communication channel through agencies of the two ministries.
Source: https://vinanet.vn/cong-thuong/ban-ghi-nho-hop-tac-ngan-ngua-gian-doan-chuoi-cung-ung-757041.html