According to Agility Emerging Markets Logistics Index 2022, the top emerging markets for International Logistics Opportunities show a degree of continuity in 2022, with the top four ranking markets unchanged year-on-year.
China continues to lead the ranking and saw its score rise during the year. China's advantages are significant thanks to its position as the world's largest exporter, the largest buyer of commodities, and the leading trading partner of more nations than any other country. China has seen massive demand for goods throughout much of the global pandemic, particularly since Western consumer markets lifted restrictions and resumed economic activity.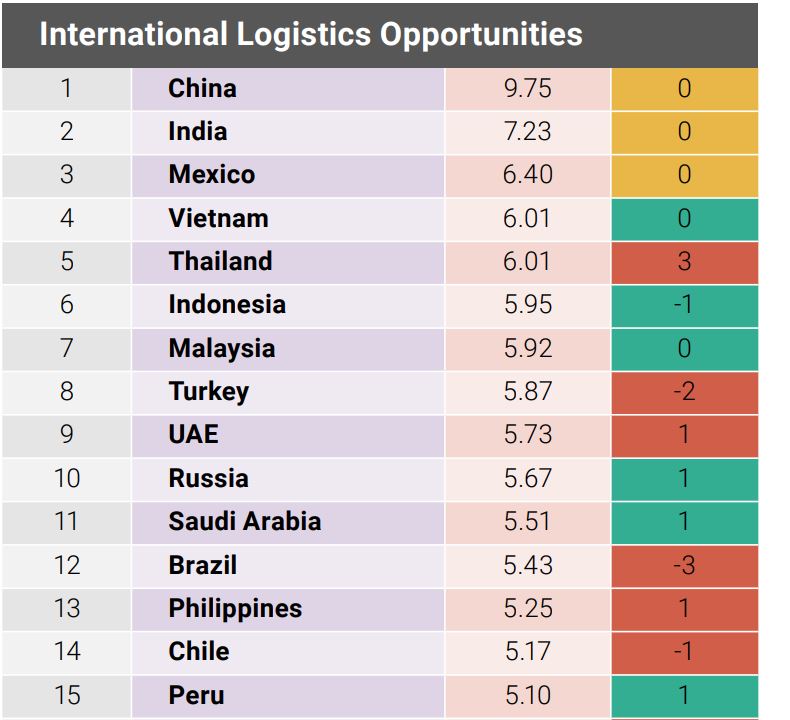 The top of the International Logistics Opportunities ranking is increasingly dominated by Asia Pacific's major emerging markets as the ASEAN-5 become more important exporters ever. Thailand rose three positions to take a top 5 ranking this year, while only the Philippines now remains outside of the top 10 in this ranking. Vietnam's 4th ranking position is cemented by its increasing popularity as a manufacturing destination for producers seeking to diversify sourcing options and reduce dependency on the Chinese market. Vietnam's manufacturing and processing sectors accounted for nearly 60% of all FDI pre-pandemic.
The market retains notable cost advantages, too, with Vietnam Briefing stating labor costs in Vietnam are, on average, around half those in China. Apparel, textiles, and footwear remain a significant strength of Vietnam's export market, with Nike operating 200 manufacturing locations and Adidas running 76, producing more in the country than in China. In electronics manufacturing, Foxconn brought its total investment in Vietnam to $2.2bn in 2021, adding 10,000 local workers to its operations in the process.
Source: ti-insight.com