The way to track air cargo of Vietnam Airlines is a common question that many users ask. Vietnam Airlines is the national airlines of Vietnam. Vietnam Airlines provides an air freight service used by many people today with the advantages of speed, diversified services, and transparent policies. So how can I track the air cargo of Vietnam Airlines during the transportation time? Let's see how to do it!
1. Vietnam Airlines and tracking air cargo
Vietnam Airlines is the flag carrier of Vietnam and the major carrier in South East Asia, operating 94 routes to 22 domestic and 29 international destinations with an average of 400 flights per day, connecting the world's major cities to mesmerizing travel destinations in Vietnam, Laos, Cambodia, and Myanmar.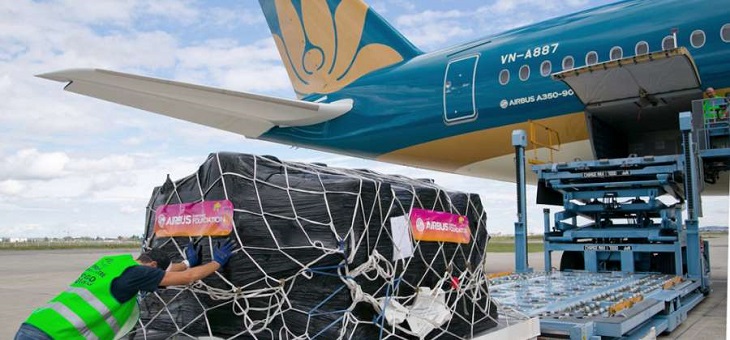 Vietnam Airlines allows customers to easily track and check the status and information about the flights when goods are transported.
Besides, customers also can reserve their seats online so that you can arrange them according to your delivery schedule just in case on peak days.
2. Basic information about air cargo tracking and ways to find out
2.1. Air cargo terminal
You can find air cargo terminals that provide cargo handling services for Vietnam Airlines in specific destinations.
First, you should access the Vietnam Airline Cargo website by accessing
Link Track Your Cargo: https://www.vietnamairlines.com/vn/en/cargo.
Link Track & Trace : https://track.champ.aero/vn
Tracking Flight Online in ALS: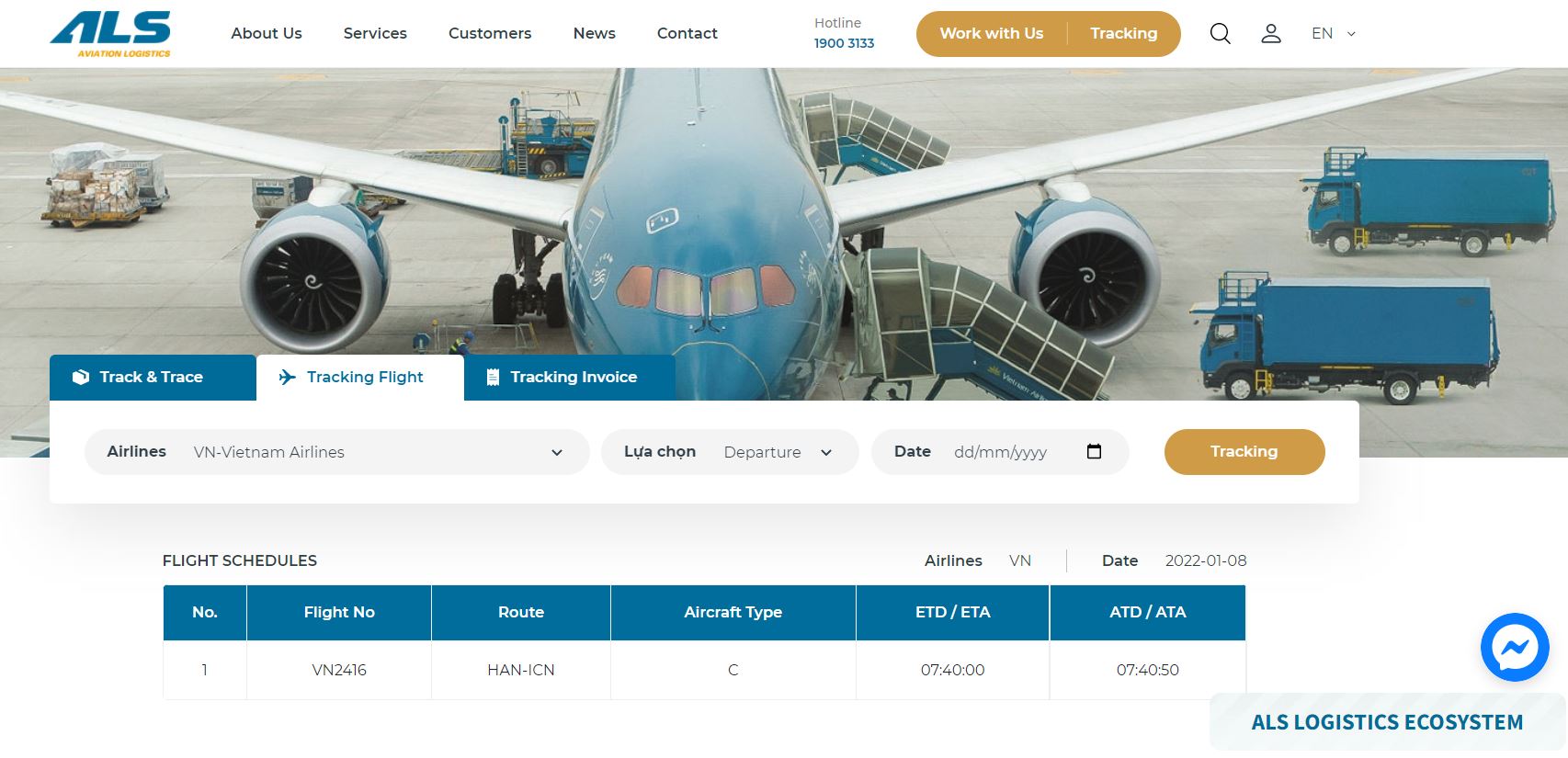 Link: https://als.com.vn/flight-tracker
Then, click Shipping Guide at the top-right and pick Cargo terminals. You can see all the cargo terminals that provide handling services at the airports for Vietnam airlines. Or click Submit button after choosing a specific region and city that you want to find out. Some data are helpful, such as the ground handling agent's name, phone number, working hours, customs office hours, and goods classes they are certified to serve. You can easily connect them for more details.
2.2. Flight schedule
You are looking up flight schedules, and flight track & trace help customers easily search all Vietnam Airlines flights. To look up the flight schedule, you need to go back to https://www.vietnamairlines.com/vn/en/cargo. Then, click the Schedule button and input data such as Origin, destination, and specify flight date to see the detailed flight status.
2.3. Online flight reservation
If you are a forwarding agent, you will save time and effort by booking online Vietnam Airlines reservation services. By clicking the Booking button, you will be redirected to the booking site for specific agents that need accounts required to access. You can contact Vietnam Airlines' branches to acquire an account & password. When you receive an account and password, you need to log in to the system and use it as usual.
3. How to track air cargo delivered by Vietnam airlines?
Step 01: visit https://www.vietnamairlines.com/vn/en/cargo.
Step 02: Click the "tracking button"
Step 03: Enter the Air Waybill Numbers > Select Track > Select "I'm not a robot."
Step 04: After that, the screen will show the route your shipment is being delivered to.
To see the details of the shipping process, please scroll down.
Note: When entering the Air Waybill Numbers, do not add any redundant blank space or special symbols between numbers and letters. You can look up more than an air waybill at once. To search more, you just need to add a comma, semi-colon, blank space, or newline.
To be supported by ALS, call us at 19003133 or email contact@als.com.vn. ALS experts will reach out to help you as soon as possible.