The transportation and logistics industry has experienced substantial growth in recent years. The development increases to meet the market demands of production and distribution. Besides the large domestic companies, many world-class transportation and logistics companies joined in Vietnam.
On December 17, 2021, Vietnam Report officially announced the Top 10 prestigious Logistics companies in 2021. As part of a series of research on key economic sectors, Vietnam Report has conducted several surveys to provide a logistics market overview in Vietnam. Surveys also showed trends, dynamics, and challenges that affect the market in the coming time.
More: Top Logistics Companies of Vietnam in 2022
1. List 1: Top 10 prestigious Logistics companies in 2021
- Field: International freight forwarding, Warehousing, 3rd & 4pl logistics services.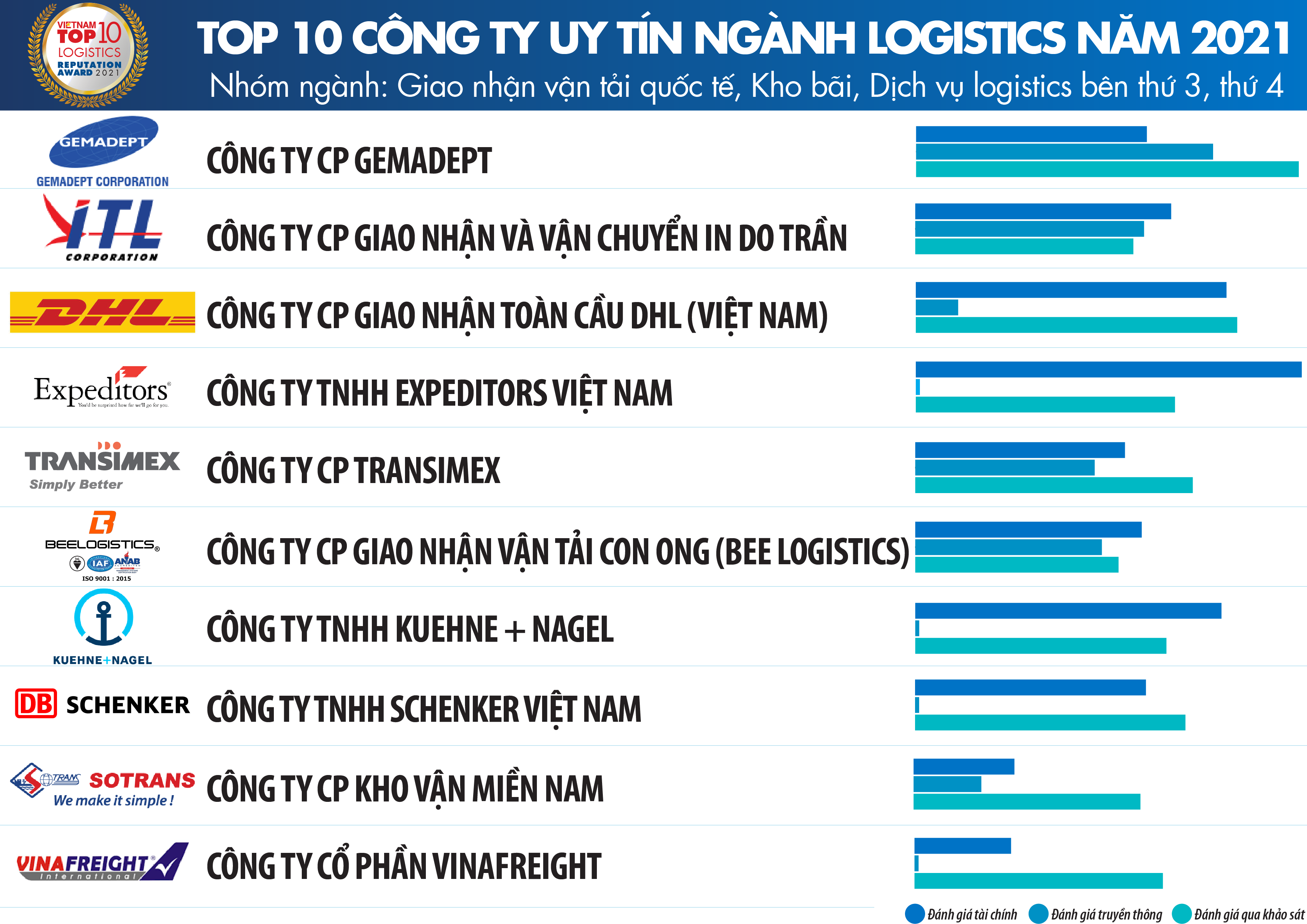 GEMADEPT CORPORATION
Indo Trans Logistics Corporation
DHL Global Forwarding (Vietnam) Corporation
EXPEDITORS VIETNAM COMPANY LIMITED
TRANSIMEX CORPORATION
BEE LOGISTICS CORPORATION
KUEHNE + NAGEL COMPANY LIMITED
SCHENKER VIETNAM CO., LTD
SOUTH LOGISTICS JOINT STOCK COMPANY
VINAFREIGHT JOINT STOCK COMPANY
This list was designed based on scientific and objective principles. Companies are evaluated and ranked based on three main criteria:
Financial capacity is shown in the latest year's financial statements.
The Media Coding method assesses media credibility by encoding articles about the company on influential media channels.
A Survey of research subjects and stakeholders was carried out in November 2021.
The international freight forwarding, Warehousing, 3PL & 4PL logistics services have shown up many reputable and experienced global logistics groups globally. With the strength of scale, knowledge, and international network, these enterprises are increasingly asserting their strong footprint in the logistics industry. Besides, logistics companies in Vietnam (domestics) have also affirmed their capabilities, such as Bee Logistics, Sotrans, Vinafreight. These businesses have the same common of timely adaptation to new trends, industry transformations, bold experimentation, and achieved successes.
2. List 2: Top 5 prestigious Logistics companies in 2021
- Field: Courier industry group, last-mile delivery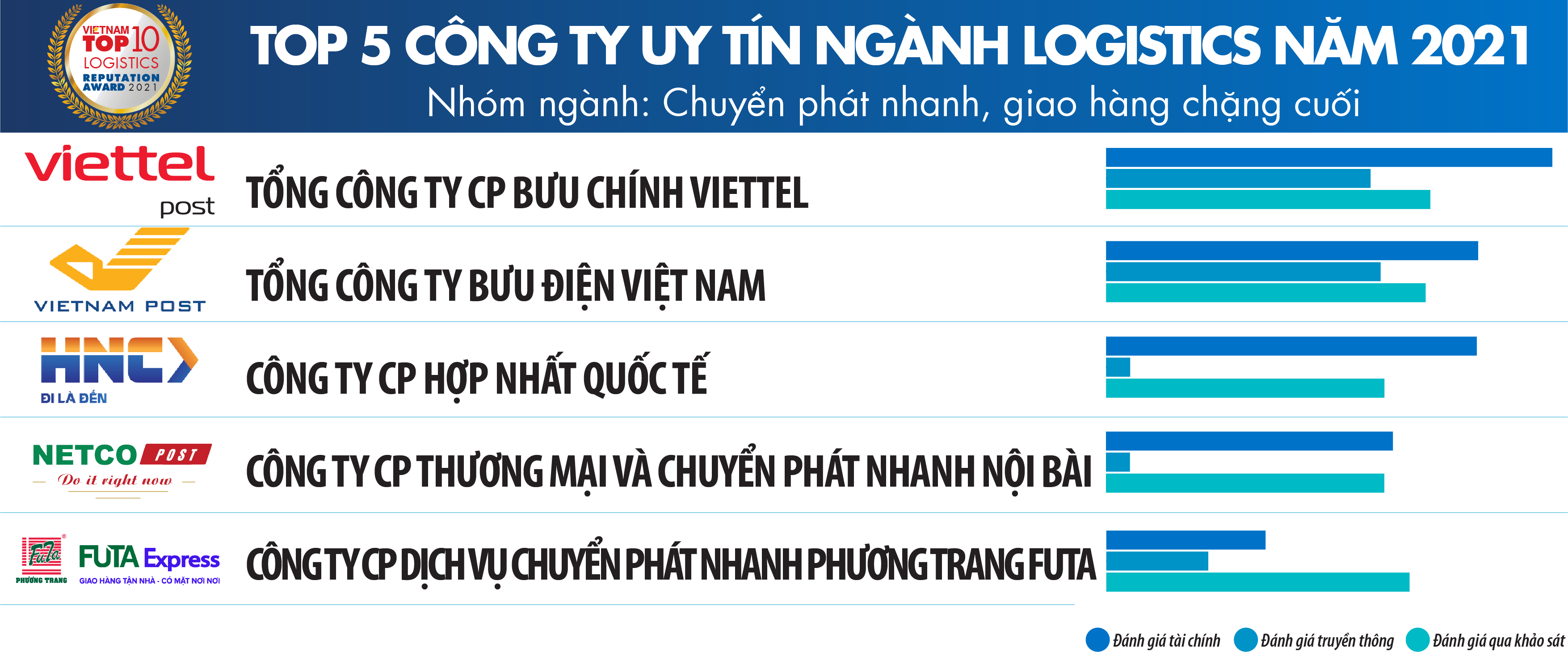 VIETTEL POST JOINT STOCK CORPORATION
VIETNAMPOST
HOP NHAT INTERNATIONAL JOINT STOCK COMPANY
NOIBAI EXPRESS AND TRADING JOINT STOCK COMPANY
PHUONG TRANG FUTA EXPRESS SERVICE CORPORATION
Viettel post remained their top leadership position in this field. With continuous efforts, Viettel Post developed their last-mile delivery system with post offices, handling centers, and a network expanding to 100% of provinces and cities nationwide. Otherwise, Phuong Trang Futa express service corporation is a logistics company in Vietnam that is successful in passenger transport & cargo transport. Phuong Trang network is remarkably popular in Southern Vietnam with diversified services such as passenger, cargo, express, etc.
The most prominent highlight of the industry is express delivery, last-mile delivery. This is transporting goods from the distribution center/warehouse to the final consumer. Last-mile delivery accounts for 28% of total freight costs. The goods flow at the last stage is gradually playing a decisive role in businesses' customer experience in the age of e-commerce and omnichannel marketing. According to a World Bank report, the logistics market for e-commerce in Vietnam currently has a size of up to 560 million USD. Notably, large e-commerce companies are now gradually building their ecosystems, in which e-logistics is an important pillar. The market is becoming more dynamic.
3. ALS – The leading aviation logistics company in Vietnam
Established in 2007, ALS is a pioneer in Vietnam in the field of providing international standard aviation logistics services including: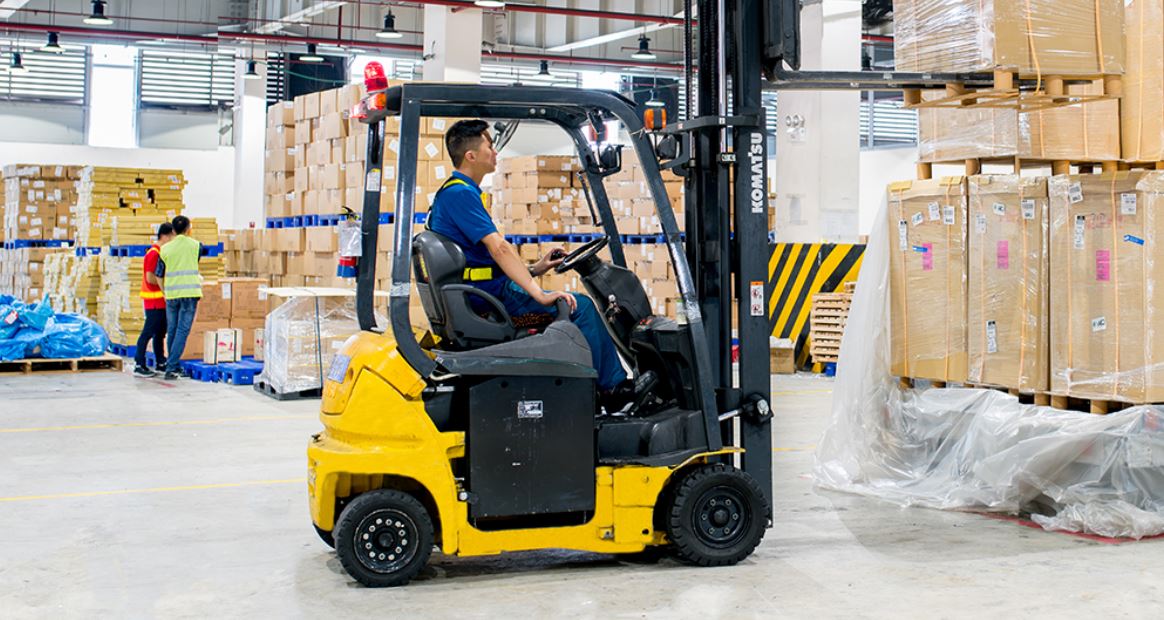 - Air cargo services at Noi Bai International Airport, Cargo terminal across the country, Off-airport Cargo terminal
- Warehousing services: Facilities to storage good in both normal and special conditions including: Common warehouse, Cool storage, Cold storage, Bonded warehouse, Document warehouse
- Other value-added logistics services: Domestic transportation, packing, labeling, home delivery, Loading and unloading cargoes, Checking and weighing goods, collecting and delivery of goods, training services with IATA standard and other special services for companies
Up to now, ALS's well-known as the leading logistics company in Vietnam for completely new model of Off-airport cargo terminal in Vietnam with top partners from over the world: DHL, Microsoft, Samsung, Korean Air, Japan Airlines, Cathay Pacific, etc.
The competitive environment is also fiercer. Backed by venture capital, startups are trying to break into the logistics market with high-tech, asset-free platforms designed to exploit the available logistics force's potential fully. Traditional businesses are strengthening through supply chain expansion and investment efforts in digital transformation, thereby contributing to renovating Vietnam's logistics industry.