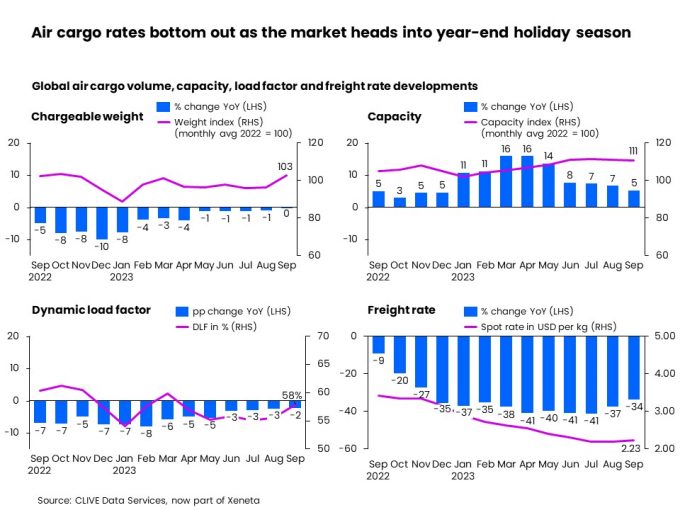 The air cargo market may be "finding its feet again" – but it may take time.
Latest data suggests Q3 23 saw a 6% rise in shippers committing to airfreight contracts of six months or longer, now at 34% compared with 28% in Q2.
Xeneta says this is a result of "the industry [coming] to terms with a new baseline for the general air cargo market".
Niall van de Wouw, chief airfreight officer, added: "It is a sign that airlines, freight forwarders and shippers are finding more common ground to enter longer-term agreements. This only happens when people feel more comfortable about the now, and the foreseeable future.
"It is easier to make a commitment now than when the market is on a sharp downward or upward trajectory. There is a firmer floor in place."
The global general air cargo spot rate also edged up 2% month on month, to $2.23 per kg in September, and continued in the week ending 1 October as the average global air cargo spot rate rose 10% from where it was three weeks ago.
Looking regionally, with cargo rushing out of China ahead of the Golden Week holiday, which began on 1 October, the September China to Europe cargo spot rate rose 11% from the previous month, to $3.19 per kg. Similarly, China to US spot rate rose 9% to $3.63 per kg month on month.
In contrast, the transatlantic market continued to decline. The air cargo spot rate fell to $1.73 per kg in September, down 3% from August.
Rates from South-east Asia to Europe and to the US grew considerably, by 22% month on month, to $2.29 per kg, and up 16%, to $3.14 per kg, respectively. Vietnam to Europe and the US rocketed: up 54% and 32%, to $3 and $3.70 per kg, respectively.
These rates may have appear to have offered hope for a peak season, but Mr van de Wouw said: "This is not a peak season…the general air cargo market is entering a new phase, where parties are not expecting the market to go much higher or much lower".
And while September air cargo volumes may have been on a par with the same period last year, global air cargo capacity grew at the slowest pace in the past 11 months.
Mr van de Wouw added: "The global air cargo market is still muted, and has been flat at a global level for three months in a row. September produced no surprises, with traditional seasonality pushing up demand over what we saw in August, and we would expect a similar trend in October with less capacity flying around.
"But in my conversations with shippers, forwarders and airlines, I still hear very little hope of demand growth before Q3 24, and for that to happen, we need to see stronger consumer confidence and economic activity."
Source: https://theloadstar.com/shippers-opt-for-longer-air-cargo-contracts-as-the-global-market-stays-flat/