A port can be defined as a harbor or an area that is able to provide shelter to numerous boats and vessels (transferring people or cargo), and can also allow constant or periodic transactions of shipment. In layman's language, a port is a place to facilitate loading as well as unloading of vessels. Today, we can explore more about updates of Vietnamese ports since 2022 for logistics plans:
1. The current seaport classification system
Currently, Vietnam's seaport system is divided into six groups of seaports: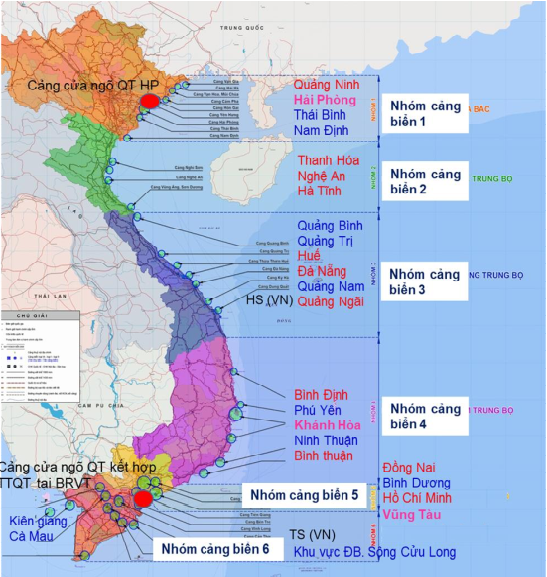 In which Vietnam's seaport system has been classified based on functions and tasks:

03 International transshipment ports and gateways (Type IA): Hai Phong, Ba Ria - Vung Tau and Van Phong international transshipment port, Khanh Hoa province;
12 national general ports (Type I), include: Quang Ninh, Nghi Son (Thanh Hoa), Nghe An, Ha Tinh, Thua Thien Hue, Da Nang, Dung Quat (Quang Ngai), Quy Nhon (Binh Dinh), Ho Chi Minh City, Dong Nai, Can Tho.
19 local general ports (Type II) with the primary function of regional serve (province, city);
Specialized ports (Type III): directly focusing on serving centralized factories, specific goods such as crude oil, oil products, coal, ore, cement, clinker, etc.). Mainly, specialized ports serving imported coal for thermal power plants will be established hubs for each cluster.
2. New Government planning and Decree issued in 2021
The Government has just issued Decree 76/2021 regulating the criteria for classifying Vietnamese ports. The Decree stipulates the assessment and classification of seaports according to the scoring method. The rating scale is 100 points. Based on the overall score, seaports are evaluated and classified into four categories:
Special type: above 90 points.
Type I: 70 - 90/100.
Type II: 50 - 70/100.
Type III: under 50 points.
To fit the conditions of socio-economic zoning, the master plan of Vietnam's seaport system development plan in the period of 2021-2030, along with 2050's vision, is being submitted to the Prime Minister for approval has classified the seaport system into five groups. Also, the plan proposes to reclassify seaports to be consistent with the 2015 Maritime Code. Specifically, the proposal is as follow:
2 special ports: Hai Phong and Ba Ria - Vung Tau.
15 ports of type I: Quang Ninh, Thanh Hoa, Nghe An, Ha Tinh, Thua Thien Hue, Da Nang, Quang Nam, Quang Ngai, Binh Dinh, Khanh Hoa, and Ho Chi Minh City. Ho Chi Minh City, Dong Nai, Can Tho, Long An, Tra Vinh.
6 ports of type II: Quang Binh, Quang Tri, Ninh Thuan, Binh Thuan, Hau Giang, and Dong Thap.
13 ports of type III: Thai Binh, Nam Dinh, Ninh Binh, Phu Yen, Binh Duong, Vinh Long, Tien Giang, Ben Tre, Soc Trang, An Giang, Kien Giang, Bac Lieu and Ca Mau.
It is known that Decree No. 76/2021 on the Government's seaport classification criteria will take effect from September 10, 2021. This Decree abolishes Clause 1, Article 20 of Decree No. 58/2017, detailing some articles of the Vietnam Maritime Code on the management of maritime activities.
Decision No. 70/2013 of the Prime Minister on the publication of Vietnam's seaport classification list will also expire from the effective date of Decree No. 76.
For more advice on Vietnamese ports, don't hesitate to contact us at 19003133 or contact@als.com.vn.