Situated in northern economic triangle Hanoi – Hai Phong – Quang Ninh and also as an important hub of the capital of Vietnam, Bac Ninh gains many advantages when intersects with major economic regions of the country, as a result, Bac Ninh is among top fastest growth and trade turn over province.
Moreover, this province is the headquarter of many largest industrial zones of the country, which attract large amount of FDI enterprises and is only 30 kilometers away from Noi Bai international airport.
All of those advantages have combined for ALS to establish off-airport cargo terminal service in Bac Ninh, which enhanced the regulation of import/export cargo flow at faster rate and convenience for enterprises.
ALS's Off-airport cargo terminal in Bac Ninh province
In the conventional methods, enterprises need to gather all shipments from the factories to Noi Bai international airport, which consumes efforts, time and expenses for enterprises while declaring customs clearance.
By developing off-airport cargo terminal service in Bac Ninh province, ALS has created more comfortable conditions for export/import goods from the enterprises, which are processed all conventional method's steps at enterprise's bases.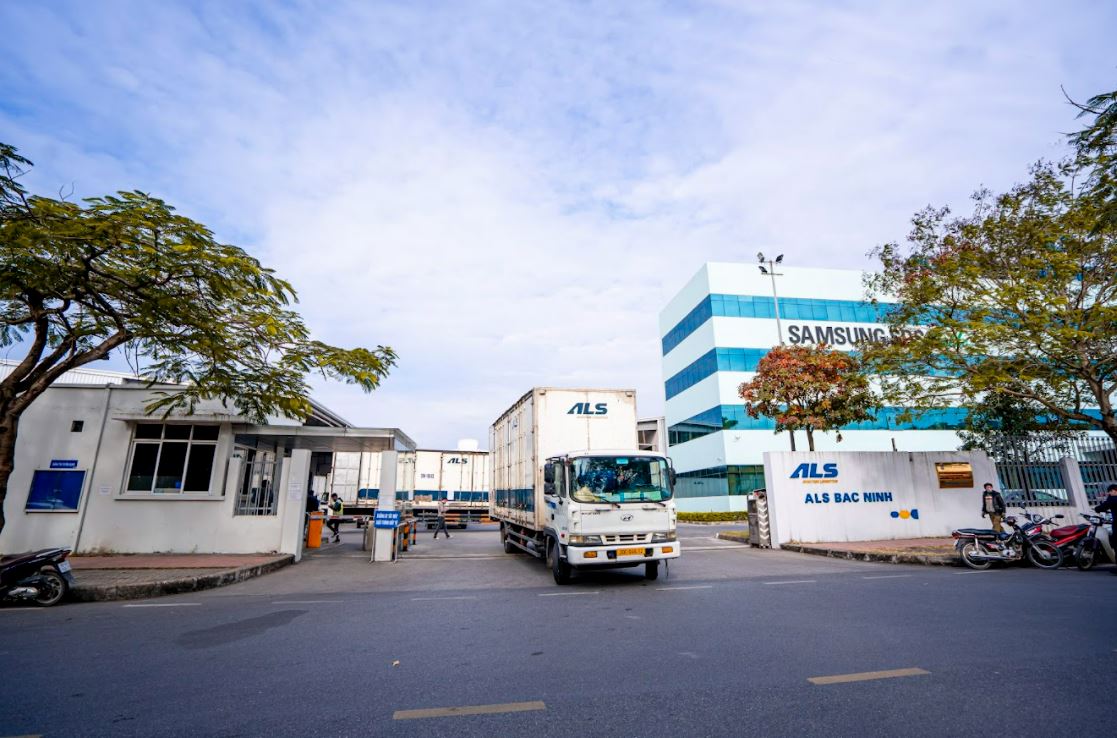 Goods are much closer to the firms, such advantage will bring more benefits for localizing factories like: easier administrative processes, consolidating goods from many sources (this is better fit for the firms with large upstream sources)
Customs-related steps such as: weighting, security screening, customs procedure are processed directly at ALS's off-airport cargo terminal in Bac Ninh province with legitimate and complete service as in the airports.
From these convenient and fast processes of off-airport cargo terminal, many firms can now harness the benefit of placing factories in suitable locations for export/import procedures which can be listed as: Samsung, Canon, Foxconn,…. (Which are also the partner of ALS)
Off-airport cargo terminal's procedure
All of ALS's off-airport cargo terminals in Bac Ninh are operated by the regulation of common aviation warehouses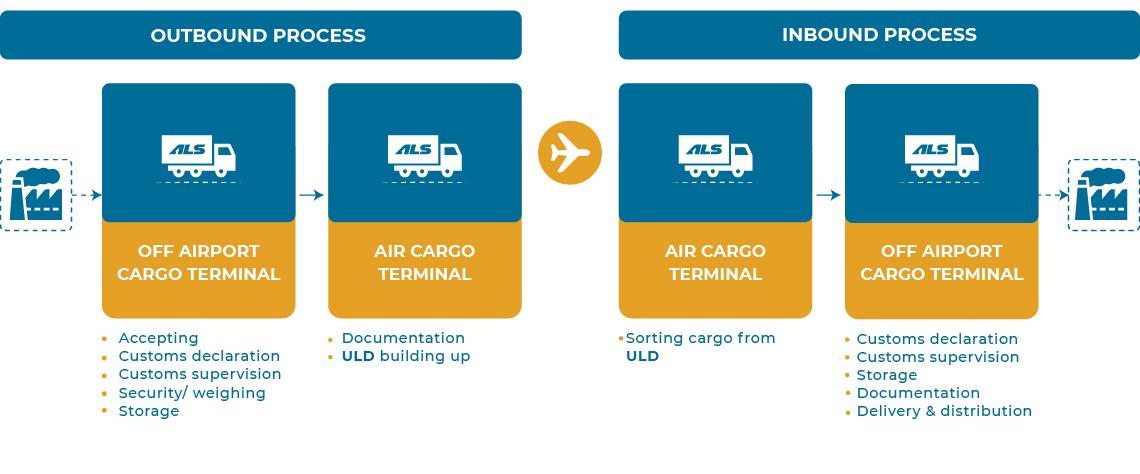 With this model, goods will be accepted, security screening, weighting and fulfill other customs processes, labeling directly at off-airport cargo terminals in Bac Ninh of ALS. After that, goods will be loaded into standard unit load device (ULD), sealed and transferred in specialized trucks to Noi Bai airport. By then, the finalized customs steps are fulfilled and handed over to ALS cargo terminal to load to airplanes.
The similar process is applied with import goods, by the time that goods are unloaded from the airplanes, the processes such as: security screening, intact status checking are conducted, then loading to complete or deconsolidated ULDs to ALS specialized trucks, sealed and transfer directly to local off-airport cargo terminal which is the closest to businesses. At this step, the staffs at the terminal conduct final processes like: checking, unloading ULDs and completing other customs procedures to transport to our customers.
Locations of ALS off-airport cargo terminals in Bac Ninh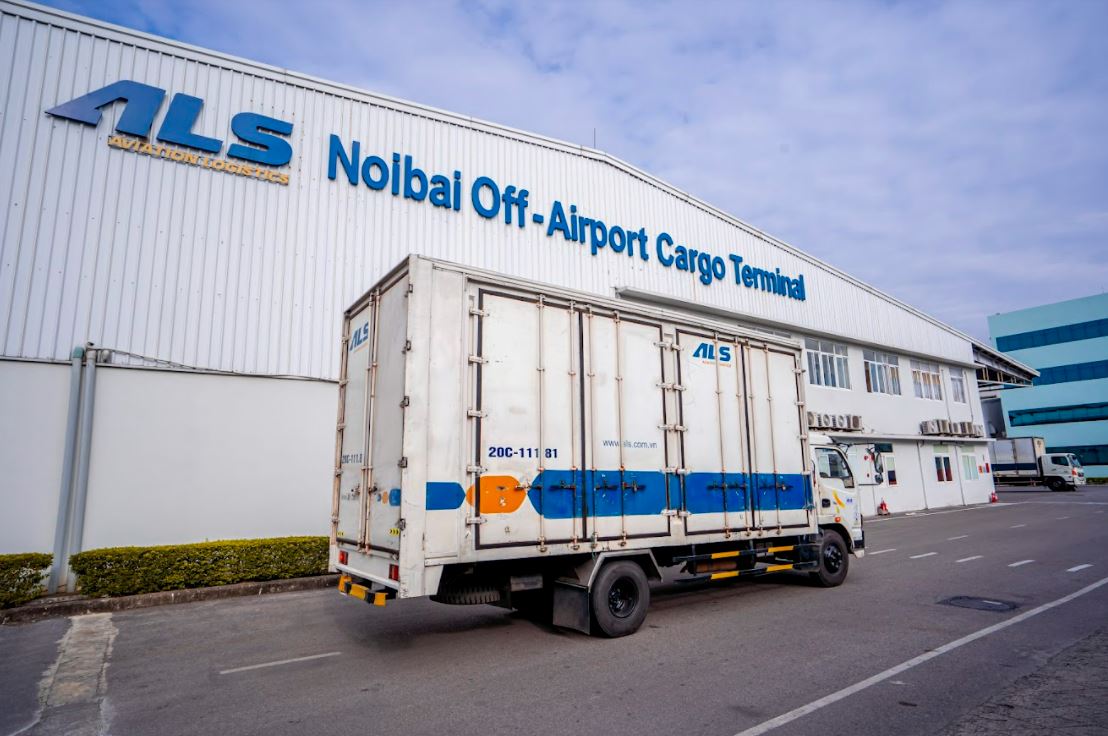 Our terminals are placed in Bac Ninh's industrial parks:
Yen Phong industrial park (Yen Phong district, Bac Ninh province)
VSIP (Phu Chan commune, Tu Son town, Bac Ninh province)
Our cargo terminal system not only satisfies export/import demand from businesses, but also storage and circulating goods in neighboring localities such as: Hai Duong, Hung Yen, Bac Giang….
We hope that our article can help you understand more about off-airport cargo terminal services in Bac Ninh from ALS. If you have any questions about this service, please don't hesitate to contact our experts at:

ALS – The Leading of Aviation Logistics