Following the wave of relocation of production facilities, in 2023, many technology giants said they would continue to expand and increase investment in Vietnam.
In the latest update, Apple is planning to move MacBook production to Vietnam as soon as 2023 to avoid the dependence on China's supply chain. Apple has asked its biggest partner, Foxconn, to open a MacBook production line in Vietnam from May 2023. At the same time, also with Mac Pro.
By 2025, Vietnam is expected to contribute 20% of total iPad and Apple Watch production, 5% of MacBooks and 65% of AirPods. Apple currently has 25 partners with factories in Vietnam, accounting for 13,9% of the total 190 suppliers as of the fourth quarter of 2021.
In 2022, Foxconn, Luxshare and GoerTek are 3 major partners for Apple in Vietnam and have continuously expanded their electronic production facilities to meet great demand from Apple. After investing 1,5 billion USD to build a production facility, Foxconn will invest another 300 million USD in the Fukang factory under construction in Quang Chau Industrial Park (Bac Giang).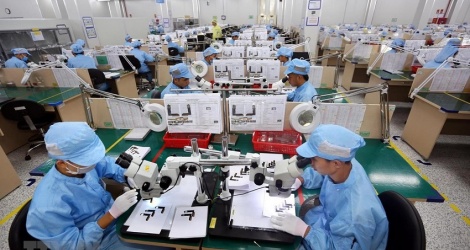 Goertek announced continues to invest 300 million USD to expand the factory in Bac Giang. Luxshare currently has 6 factories with about 40.000 employees in Vietnam. According to the latest information, Apple decided to choose Luxshare as one of the assemblers of the upcoming iPhone 15 Pro Max.
Recently, the world's third largest computer manufacturer by sales, Dell, has set a goal that by 2024, all chips equipped in the firm's products will be manufactured in factories outside of China. Besides chips, Dell has asked other component suppliers such as modules and circuit boards to prepare shipping capacity in countries outside of China.
Meanwhile, Pegatron is building a factory with a total investment of about 481 million USD in Hai Phong. In the period 2026 - 2027, the company will continue to implement projects with the total investment capital up to 500 million USD. In addition to the projects of manufacturing components and electronic products, Pegatron also intends to move the R&D Center from China to Vietnam at an appropriate time.
A series of other big companies are surveying, researching new opening plans, relocating production plants to Vietnam such as OPPO, HP, Brose, or expanding production scale after relocation such as Xiaomi, Bosch, Panasonic , Amkor, Sharp, Compal…
In particular, Samsung, after 18 billion USD investment and opening the largest R&D Center in Southeast Asia, will continue to expand investment in Vietnam. Mr. Han Jong-hee, Vice President and General Director of Samsung Electronics shared that the group is planning to increase Samsung's investment capital in Vietnam to 20 billion USD in the upcoming time.
LG, another tech giants, after investing 5,3 billion USD in Vietnam in many fields of electronic manufacturing, also said it will continue to make large investments in Vietnam. Mr. Kwon Bong-seok, Vice Chairman and CEO of LG Group informed that the group will invest an additional 4 billion USD in Vietnam. Areas of LD that targets to automotive and mobile phone equipment, promoting linkages in IT training, software centers and future camera manufacturing centers for phones.
Dr. Ho Quoc Tuan, a lecturer at Bristol University (UK), commented that Vietnam has benefited significantly from the process of diversifying production centers, or in other words, avoiding dependence on China. Regardless of how much China will ease Zero-covid, the process of shifting production out of China by foreign manufacturers will continue. Vietnam is one of the partners that is assessed to benefit greatly.
Source: https://baodautu.vn/hang-loat-du-an-san-xuat-dien-tu-cap-ben-viet-nam-d181824.html