On February 22, the Department of Industry (Ministry of Industry and Trade - MOIT) coordinated with Samsung Vietnam to hold the signing ceremony of a Memorandum of Understanding (MOU) on cooperation in smart factory development.
According to Mr. Nguyen Hong Dien, the MOIT has coordinated with multinational corporations and large FDI enterprises in Vietnam to conduct resolutions on promoting industrial development and supporting industries, thereby raising competitiveness and human resources quality.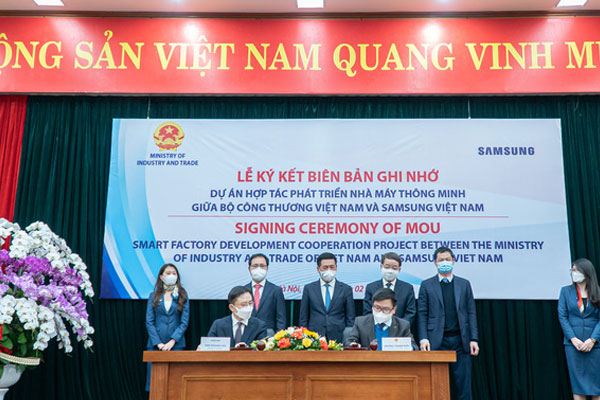 Separately with Samsung, from 2012 until now, the MOIT has coordinated several projects. Both parties have joined a consultant training cooperation program within 207 consultants. Moreover, Samsung has consulted on 144 business improvements, cooperated in training 200 modelized employees, and developed suppliers to increase first-level suppliers from 35 to 50 companies and second-level suppliers from 157 to 203 companies.
Since digital transformation in supporting and manufacturing industries still shows its limitation, Mr. Dien appointed that applying 4.0 technologies in production and business activities needs to be improved.
Most companies face barriers such as lack of digital skills and human resources, lack of information technology background, lack of digital mindset, challenges of enterprises digital culture, etc.
Therefore, the smart factories project plays tremendous significance and practicality, contributing to raising the level of Vietnam's industry.
Mr. Choi Joo Ho - General Director of Samsung Vietnam Complex - said that Samsung Korea's experts would directly instruct enterprises' factories. The project will support 50 Vietnamese enterprises to apply the smart factory model and train 100 Vietnamese consultants, said Samsung.
Source: Internet