DHL matched FedEx and UPS with a 5.9 percent general rate increase (GRI) for the DHL Express air freight business. The price increase will take effect for U.S. outbound shipments starting Jan. 1, 2024.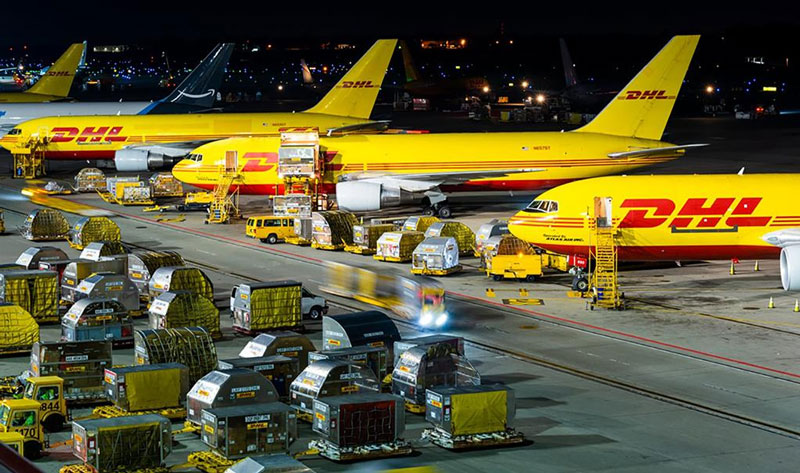 The 5.9 percent GRI represents a lower increase than the 7.9 percent hike that DHL Express applied to shipments this year.
DHL Express adjusts prices each year, factoring in inflation and currency dynamics as well as administrative costs related to regulatory and security measures. National and international authorities regularly update these measures in the more than 220 countries and territories where DHL Express operates.
DHL Express exclusively serves the U.S. market on an international basis, operating flights into and out of the country. Depending on local conditions, price adjustments vary from country to country, and will apply to all customers where contracts allow, according to the company.
Like FedEx, DHL has a chance this holiday to gain packages that UPS lost when customers gave their business to rivals during a strike-threatened summer. But with demand down this year and UPS meeting FedEx's 2024 rate, DHL likely couldn't afford to authorize a bigger GRI bump than the competition.
DHL had a worse quarter than FedEx and UPS, with revenue falling 16.3 percent to $21 billion on operating profit of $1.8 billion, 26.1 percent lower than last year.
The Express division outperformed the rest of the business, with revenue falling 12.5 percent to $6.4 billion. But excluding negative currency effects and lower fuel surcharges, revenue in the period declined 6.9 percent. Operating profit for the division decreased by 18.2 percent to $942 million in the second quarter.
Weaker demand drove a decline in daily international time-definite (TDI) shipment volumes.
DHL expects a better holiday season than it initially anticipated, and raised the lower end of its 2023 profit guidance range. The company now sees its annual operating profit at $6.5 billion to $7.3 billion, up from $6.3 billion to $7.3 billion.
The higher profit would help DHL as it builds its international air fleet. In July, the company said it was investing $192 million in an expansion project at the Americas global hub it operates at the Cincinnati/Northern Kentucky International Airport (CVG).
The investment supports DHL's growing aviation fleet with a 305,000-square-foot, aviation maintenance facility with additional space for aircraft components storage, offices, three maintenance parking gates and eight new aircraft gates. The project is scheduled to be completed by end of 2025.
As of July, the CVG hub operated on 194 acres with 67 aircraft parking gates and 6.4 million square feet of ramp area. It is home to 130 daily flights and a fleet of 60 aircraft, serving customers from more than 220 countries and territories worldwide. It is also one of three DHL global "super hubs," with the other two based in Hong Kong and Germany.
According to DHL, 80 percent of all shipments from the Americas flow through via the CVG hub, which handles 90 percent of the company's U.S. volume.
The GRI news comes as August air cargo demand grew for the first time since February 2022, rising 1.5 percent to 20.7 billion cargo ton-kilometers (CTKs), according to International Air Transport Association (IATA) data. But this metric was 1.3 percent lower than where it was in 2019.
Capacity, measured in available cargo tonne-kilometers (ACTKs), was up 12.2 percent compared to August 2022 at 49.3 billion ACTKs. This was largely related to airplane belly capacity, which rose 30 percent year over year as airlines ramped up to meet peak-northern summer travel season demand.
But despite rising demand, cross-border trade in July fell 3.2 percent, IATA said. If these downward trends, air cargo demand might not recover in the coming months, it added.
Air freight rates have fallen along with falling consumer demand, according to WorldACD. For the week of Sept. 18-24, worldwide rates were 33 percent below year-ago averages at $2.32 per kilogram. This is 25 percent higher than pre-Covid levels from September 2019. On a two-week over two-week basis, rates are up 2 percent.
Source: https://www.yahoo.com/lifestyle/dhl-express-matches-fedex-ups-212455055.html