The project "Container bus ship" sets berth at Long An international port, aims to prioritize the use of existing ports located on the axis (planned route) with convenient circulation, designed wharves/stations implemented with industrial zones and clusters…
Dong Tam Group (Long An) recently proposed the first outline of the project "Container bus" (Also known as river bus that collects goods on the axle) with the goal to promote better goods circulation, reduce logistics costs for the Mekong Delta region.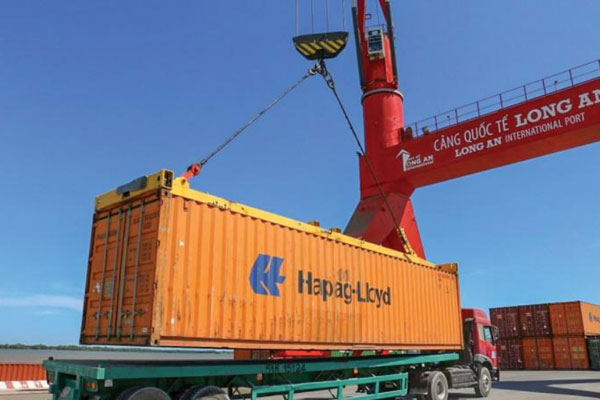 Solutions for Mekong Delta's high logistics cost
According to the Department of Inland Waterway of Ministry of Transport, significant role of inland waterway accounts for nearly 20% of the country's total output and goods movement. However, in reality, the investment level is not commensurate with the potential, which equals for only 1.4% of the total investment in transport infrastructure.
The southern provinces and cities, especially the Mekong Delta region, have an interlaced system of rivers and canals, which is considered as advantage in developing and improving the capacity of inland waterway navigation, as well as the river tourism.
The values from "Container bus ship" ideas
In freight logistics, a deep-water port brings many advantages and critical requirement, supporting to receive large vessels, simultaneously transporting many goods (TEUs), and thus reducing costs. Mekong delta regions faced many difficulties in building deep water port. The reasons given by experts are: rough natural environment that requires large budget for dredging the channel every year; which becomes hindrance for region's development.
Based on the existing difficulties and particular advantages of the interlaced river and canal system in the Mekong Delta, a proposal for inland river ports in the region will be planned as "Container bus ship". Accordingly, localities that currently haven't got substantial capabilities to build large deep-water ports can build small ports to serve transshipment of goods. Next, goods are transported from manufacturers to the small ports. The fleet of "buses" (barges) will transport goods and containers to large deep-water ports.
Based on the logistics expert's estimation, the cost of transportation by river bus is much "softer" than the road mode. For example, a barge with the capacity to transport 40-50 TEUs from the Mekong Delta to Ho Chi Minh City or Binh Duong costs only about 40-50 million VND for one way. While on the road mode, for example from Vinh Long/Can Tho to Cat Lai/Long An, it's about 4 million VND per container. A Truck with limited capacity of two 20′ (20 feet) containers or one 40' container.
Theoretically, the Mekong Delta has 30 to 50 "river bus" port (inland ports), 1-3 barges daily to pick up goods (containers) and transport and gather at the large ports, gaining advantages for manufacturers in localities, remove current obstacles for goods circulation.
This is also the key to contribute to the creation of comprehensive social values for Mekong delta's localities ​​in the future.
source: https://vneconomy.vn/de-an-tau-buyt-container-loi-giai-cho-bai-toan-chi-phi-logistics