ALS cold warehouse is equipped with temperature adjustment system, the warehouse was certified with suitable storage conditions for: seafood, sweets, raw meat, seed, agricultural products, cosmetics and other products as your demands..
1. ALS cold warehouse for lease in Bac Ninh
ALS cold warehouse system is mainly divided into 2 sectors:
Cool warehouse: temperature ranges from 12 to 20 celsius degree
Cold warehouse: temperature ranges from -22 to 8 celsius degree
Currently, ALS provided cold warehouses with top capacity in Bac Ninh province, which are full established to serve cold supply chains such as:
Commodities that are imported by aviation transport: fruits and vegetables, food, fresh food products
Commodities that are imported by sea transport: frozen food
Industrial raw and auxiliary materials (for industrial and manufacturing zones)
2. Advantages of ALS cold storage in Bac Ninh
With the advantage of firm experience and infrastructure of top advanced cold warehouse system in Vietnam, ALS is the main partner in cold storage services for top businesses in the region such as: Samsung, WellStory, convenience store chains, cookhouse. ALS understands thoroughly standards, traits and operating procedures for such kind of temperature-control warehouse. ALS ensures with customers: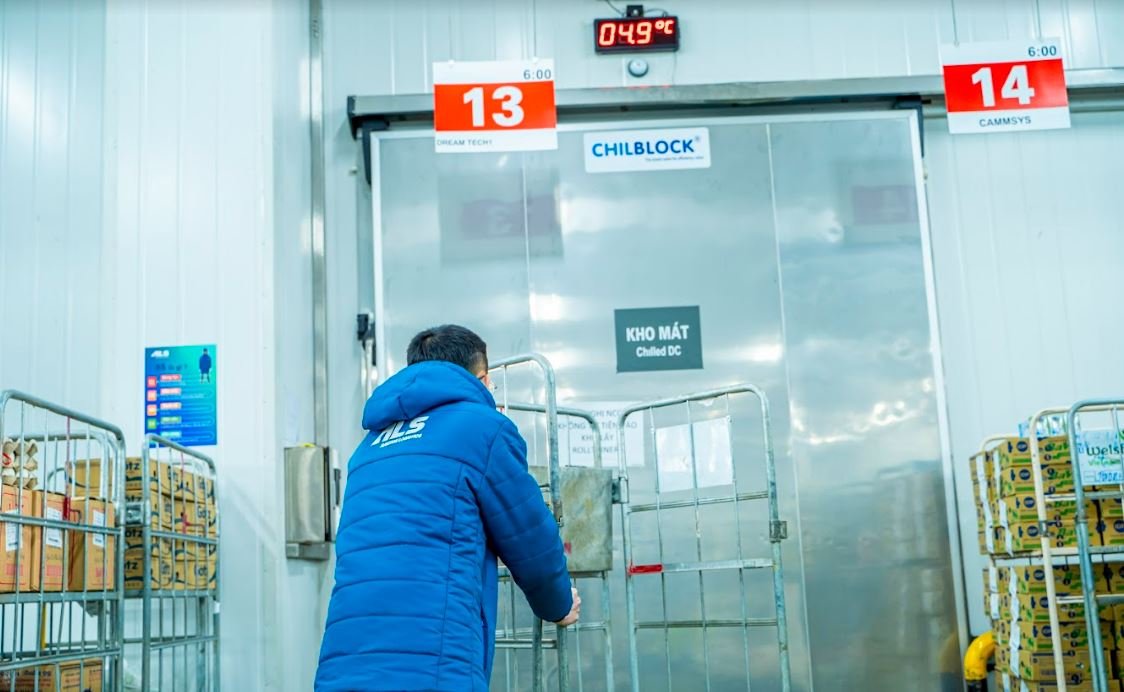 Temperature and humidity in cold warehouse are monitored by system 24/7, closely supervised by well-trained personnel and regularly inspection to ensure the quality of storage food, agricultural products and other goods at the best shape.
Fully controlled operating process, each goods are zoned and sorted at optimal locations to prevent the harming of other goods in the area.
Flexible in choosing storage services for cold, cool, frozen warehouse, besides, customers have more rental options from short-term, long-term or on-demand requests.
Warehouse management system to control import/export goods.
3. Cool, Cold warehouse price list in Bac Ninh (Latest)
Cool and cold warehouse service price list in Bac Ninh
Rental options

Measurement units

Price (USD/month)

Notes

Cool warehouse

m3 (Cubic meter)

10,44

- Measurement formula: Length x Width x Height = Area x Height

- Average temperature of ALS cool warehouse ranges from 12 – 22 celsius degree

- Average humidity in warehouse: +/- 50%

Cold warehouse

m3 (Cubic meter)/ton

0,63 to 0,75 USD/day/m3/ton

- Measurement formula: Length x Width x Height = Area x Height

- Minimum storage duration: >15 days
*Notice: The price list above is not included VAT (Value-added tax) and other related service fees. Moreover, new or constant output customers will have other discount policy for each organizations.
To get the latest detailed price list, please feel free to contact with our experts for helpful advisory and in-time support
ALS hopes that our article has provided your desired information about cold warehouse services in Bac Ninh. If you have any further questions or advisory related to your business, don't hesitate to contact with ALS's customer services for the most recent information.
Website: https://als.com.vn
Call center: 1900 3133
Email: contact@als.com.vn
Fanpage/LinkedIn: Aviation Logistics Corporation