In the 30th anniversary of the establishment of Korea-Vietnam relations, the Federation of Korean Industries (FKI) on December 21 announced the analysis results of the change in investment and trade between the two countries, Korea and Vietnam in the period of 1992-2021.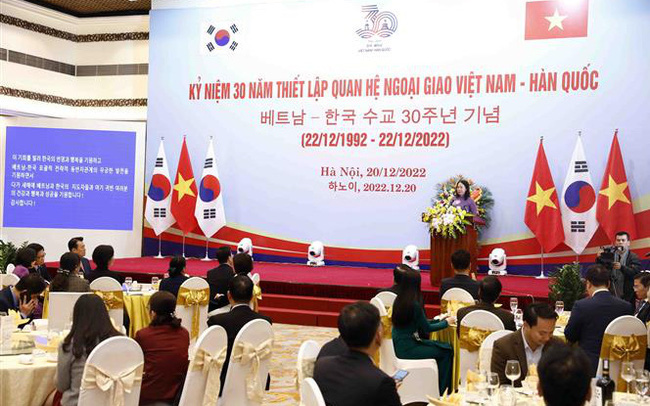 Korea's trade surplus with Vietnam has been continuously increasing since 300 million USD in 1992, especially this number is expected to reach 31.3 billion USD this year, almost certainly surpassing the US (25.4 million USD).
Up to November 2022, the trade scale between Korea and Vietnam reached 81.1 billion USD, it is expected that Vietnam will surpass Japan (78.4 billion USD) to become Korea's third largest trading partner after China and US.
In 1992, the trade scale between Korea and Vietnam reached 500 million USD, by 2021 it has increased 161 times to 80,7 billion USD. During the same period, Korea's exports and imports increased by 8,4 times and 7,5 times, but exports and imports with Vietnam alone increased by 142 times and 240 times, respectively.
Since the two countries established diplomatic relations, the three products with the largest total export value are semiconductor chips, flat screens and sensors, radio and telecommunications equipment. In the period of 2019-2021, exports of these three items had an increase of 32%, 23,3% and 37,2%, respectively.
Korea is the largest investor in Vietnam. According to data from the General Statistics Office of Vietnam, up untill 2021, Korea ranks first with 9.203 investment projects, with a total investment value of 78.5 billion USD. Korea's foreign direct investment (FDI) into Vietnam has increased from $17 million in 1992 to $2,4 billion in 2021.
Samsung Electronics is the largest foreign direct investment enterprise in Vietnam. This year, Samsung Electronics invested another 2 billion USD, expected to bring the total investment capital of the Korean group to 20 billion USD.
FKI pointed out that the Governments of the two countries have recently raised the relationship to the highest level as a "comprehensive strategic partnership", the Korean Government needs to strengthen its partnership with Vietnam in various fields to development together. Businesses are aiming to increase the scale of bilateral trade to 150 billion USD by 2030, double the current figure.
Source: http://world.kbs.co.kr/service/news_view.htm?lang=v&Seq_Code=57022