A.P. Moller Maersk Group is preparing a plan to invest in a large-scale warehouse and logistics center in Binh Duong province, Vietnam.
On August 8th, Mr. Nguyen Van Danh, Vice Chairman of Binh Duong Province welcomed Mr. Rene Piil Perdesen, President in charge of foreign affairs and public policy, Asia - Pacific region of A.P Group Moller Maersk came to learn about the investment environment in Binh Duong.
Mr. Perdesen, said that in Binh Duong, Maersk is trading in 5 warehouses with a total area of 151 000 m2. In which, more than 50% of warehouses are using solar energy, 100% of energy-saving lights, 100% of using energy-saving equipment in Maerks's warehouse operation.
Mr. Perdesen also noted that Maersk is trying to minimize the impact on the environment when switching to using clean and green fuel in their operations at ports and logistics network, including the use of heavy duty electric trucks.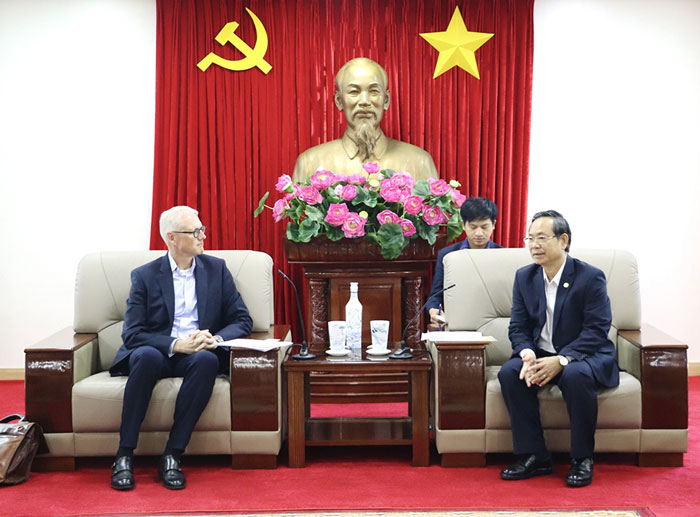 Referring to the investment plan in the future, Mr. Perdesen wanted to learn more details about the industrial ecosystem and the upcoming development orientation of the province to prepare for a new investment plan in warehousing, large-scale logistics center for long-term business activities in Binh Duong.
Mr. Danh said that the province is focusing on building transport infrastructure thoroughly connecting with Southern Vietnam's key economic region and neighboring localities.
At the same time, the province will establish "green" industrial parks, smart cities in the future, focus on training high-skilled human resources, improve the investment environment, and commit to creating all favorable conditions for businesses operating effectively in the province.
Source: https://baodautu.vn/tap-doan-ap-moller-maersk-tiep-tuc-dau-tu-trung-tam-logistics-tai-binh-duong-d195929.html