A sure sign that the holiday season getting closer each day are the respective announcements made by carriers, transportation and logistics services providers, and shippers alike, announcing their "help wanted" signs have been hung, as they look for seasonal workers.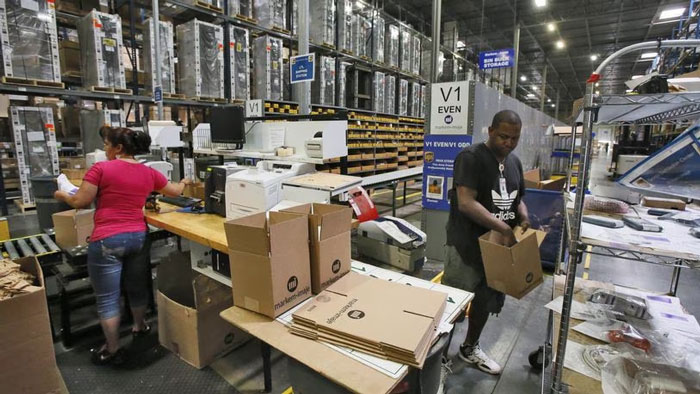 As has been previously noted in this space, these types of announcements, prior to the onset of the pandemic, were viewed as commonplace. But they became different, in that the pandemic and labor availability, or lack thereof, went hand-in-hand for more than a while. That is not so much the case now, with the unemployment rate at record lows.
And much like in past years, there are more than a few big-name companies ringing the bell for seasonal help.
Atlanta-based global freight transportation, express delivery, and logistics services provider UPS said this week it is ready to take on 100.000 seasonal workers in various roles, including: full- and part-time seasonal positions—primarily seasonal delivery drivers, Commercial Driver's License (CDL) drivers and package handlers.
"The best talent delivers the best service. That's why we're proud to offer industry-leading pay for UPS part-timers, full-timers and seasonal employees alike," said Nando Cesarone, UPS Executive Vice President and President, U.S., in a statement. "We're looking forward to delivering yet another leading on-time performance this holiday season and helping thousands of workers kick off their UPS careers in the process."
UPS made it clear that these seasonal opportunities can serve as more than a way to pick up some quick work for job seekers, citing how almost 50.000 of its seasonal staffers have gone on to permanent positions with the company over the last two years alone.
And the United States Postal Service (USPS) also announced its hiring plans for the holidays.
USPS said that it is hiring 10.000 season employees. This is below its 28.000-tally announced for 2022, with the organization explaining that it has focused on its Delivering for America initiative to stabilize its workforce—converting more than 150.000 pre-career workers into career positions going back to October 2020.
"Due to this success, USPS anticipates the need to hire only an additional 10.000 seasonal employees," said USPS.
As for DHL, the company has not officially announced seasonal hiring plans for 2023. But, as a point of reference, in 2022, it said U.S. eCommerce business unit would be hiring 2.000 seasonal workers across the country.
On the shipper side, retail giant Walmart has yet to announce its seasonal hiring plans, but the company did look for 40.000 seasonal associates for various positions a year ago. Will that be the case again this year? We will have to see.
One of its biggest competitors, Target, is going big again this year, recently announcing its plans to bring on 100.000 seasonal team members. The number of seasonal team members Target plans to hire is based on several factors and supplements hiring it has done throughout the year across its stores and supply chain facilities, according to the company.
"In our supply chain facilities, we are hiring for roles within warehouse operations," said Target. "A role in supply chain means being on the frontlines of getting products to our guests and stores as quickly as possible, creating greater ease for guests and fellow team members."
And Seattle-based e-commerce bellwether is also prepping for the holiday rush, hiring 250.000 people in full-time, part-time, and seasonal fulfillment center and transportation roles in hundreds of cities and towns across the U.S. The company noted it is investing $1,3 billion this year toward pay increases for customer fulfillment and transportation employees, bringing the average pay for those roles to over $20,50 per hour (a more than 50% increase over five years), with some locations offering as much as $28 per hour.
"The holiday season is always a special time at Amazon and we're excited to hire 250.000 additional people this year to help serve customers across the country," said John Felton, Amazon's senior vice president of Worldwide Operations, in a statement. "Whether someone is looking for a short-term way to make extra money, or is hoping to take their first step toward a fulfilling and rewarding career at Amazon, there's a role available for them. A fulfillment or transportation employee who starts with us today will see a 13% increase in pay over the next three years—likely more, including our annual wage investments—and that's on top of offerings like prepaid college tuition with Career Choice and health care benefits from day one."
The aforementioned companies could be viewed as a working list, of sorts, for 2023 holiday season hiring, with the expectation there will be more announcements to come.
On the surface, these may look like aggressive hiring goals, in some cases, but if the demand is there, then it may not really be that challenging. But, at the same time, the labor market remains tonight so it is by no means a slam dunk that all these positions will be filled. But it is not even October yet, so we will have to see what happens. It really is never too early to be thinking about the holidays, from a supply chain perspective.
Source: https://www.logisticsmgmt.com/article/logistics_services_providers_and_shippers_call_out_for_seasonal_help