Working with leaders of the Ministry of Transport of Vietnam (MOT), leaders of Hainan province (China) proposed the restoration of the sea shipping route from Duong Pho port (Hai Nam) - Hai Phong port; opening more new transport routes for both customers and goods connecting Hainan's ports with Quang Ninh, Da Nang and Nha Trang (Vietnam).
Minister of MOT, Mr Nguyen Van Thang has just worked with Hainan Provincial Party Secretary Shen Xiaoming and Mr. Hung Ba - Chinese Ambassador to Vietnam - on the possibility of cooperation in the field of transport between Hainan and Vietnam.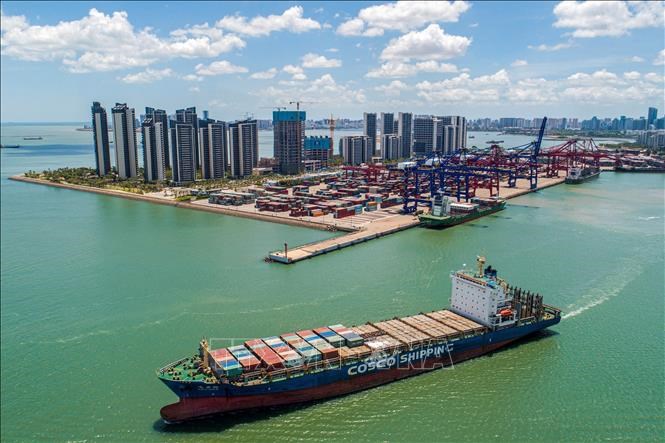 At the meeting, Mr. Shen proposed to restore the shipping route between Hainan and Hai Phong, and sea transport routes carrying tourists from Hai Nam to Ha Long (Quang Ninh) and Da Nang.
Mr. Shen also proposed to open a new sea freight and passenger transport route from Basuo port (Hainan, China) to Cai Lan port (Haiphong Vietnam), and add a tourist transport route from Sanya (Hainan) to Da Nang and Nha Trang (Vietnam). In particular, the passenger transport route connecting Basuo port with Cai Lan can be operated by Ro-Ro ships (sea ferries, a combination of passenger and car transport), to serve the needs of self-driving car by tourists
The leader of Hainan province also asked MOT to consider and coordinate to soon restore the flight route between Hainan and Vietnam, facilitating the travel of the people of the two countries.
Transport Minister Nguyen Van Thang said that for freight and passenger transport by sea, Vietnam is not required to register for a fixed route like China. Therefore, shipping lines wishing to be able to agree with the port to open shipping routes, MOT supports these proposals.
With the restoration of freight transport between Hainan and Hai Phong, Mr. Thang said that MOT supports the restoration and opening of new transport routes between the two sides, ensuring convenience, safety, and compliance with regulations of international conventions, port regulations of the country, Particularly for the plan of deploying Ro-Ro ships to carry tourists with self-driving cars, depending on the specifications of the ship, the port can consider and receive appropriately. Currently, Vietnam does not have Ro-Ro ships operating on international waters.
The head of MOT also highly agreed with the proposal to restore the route between Hainan and Vietnam on the basis of the air transport agreement signed between the two countries. However, according to Mr. Thang, currently Noi Bai (Hanoi) and Tan Son Nhat (HCMC) airports are overloaded with slots (takeoff/landing time), especially in favorable time frames, airlines need to contact the Civil Aviation Authority of Vietnam for instructions.
Source: https://cafef.vn/mot-dia-phuong-trung-quoc-muon-mo-nhieu-tuyen-van-tai-bien-toi-viet-nam-20230223134443105.chn